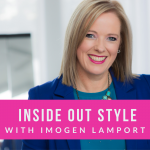 In this episode
Can a person's skin colour be used to create colour or value contrast?
What tips can you share when planning a colour scheme for a wardrobe capsule?
I have a dramatic personality but my colouring calls for softer colours – how do I create the drama I love in outfits whilst still flattering my colouring?
Creating Contrast
Choosing Prints and Patterns with the Right Colour Contrast for You
The Value of Value Contrast and Using it to Create Stunning Outfits
Colours for a Capsule Wardrobe
Dramatic with Soft Colouring
How to Create Dramatic Outfits When Your Most Flattering Colours are Soft and Smoky
Subscribe to my Podcast
You can now get these videos as podcasts subscribe and never miss an episode
Send Me Your Colour and Style Questions
Please do email me your colour and style questions to answer on upcoming videos!