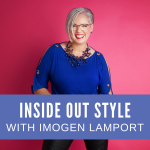 In This Episode
5.03 I'm 75 and have severe scoliosis. My height has shrunk from 5'8″ to 5'2″. I knew how to dress for 5'8″. Short is very different. My shoulders are not level, my waist and hips are uneven, and the middle of my back is rounded. I can't wear heels.
I'm not much of a socializer because I'm almost totally deaf and social situations are extremely difficult as when more than 2 people are talking it's hard for me to make sense of the conversation. My home wardrobe is flannel and fleece which makes it doubly hard when I go out to church or lunch ith friends. Looking at websites and catalogs leaves me feeling hopeless. Any good suggestions?
Tips for Embracing Scoliosis
9.24 I am unsure about styles and shapes and colours to fit my complexion and shape – where should I start?
Get Your Style Education
If You'd Like to Define Your Style and Discover Your Colours
If you're sick of wasting money on clothes that don't work and you know there is a better way, then join my 7 Steps to Style program and get the right information for you and your style.
Subscribe to my Podcast
You can now get these videos as podcasts subscribe and never miss an episode
Send me Your Questions
Please email me your questions to be included in my Q&A Lucky Dip!