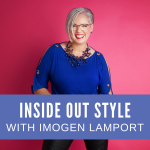 In This Episode
0.08 My concern is how do I feel stylish AND comfortable at work! I have a 1 hour commute, with some walking, and sneakers are not an option at the office…
I am curvy, 5'6″ a UK 16 up (big bust) and a 12 down. So it is not easy to find clothes that fit right.
5.22The big issue I am stressing about is what to wear on my YouTube videos.
I am a quilter and really want to pump up my YouTube content this coming year. I see some people wear a uniform. Others go all out.
I am the relaxed style, according to your quiz. And I am in Denver. We tend to keep it very casual, like you just came in from hiking or something. I need to be genuine and dress my style but still a little unsure how to make it look good for the camera.
I also need it to be easy and somewhat feminine, but not frilly. I need to be able to make quick changes and allow for coordinating with quilts that might be behind me. The right color in the right place is a big thing for me.
And I need to be able to plan for several videos at once and have outfits ready.
10.12 – I have 2 issues, the first is how to look chic but I can only wear flat shoes.
The second is Fit. I'm a size 6, but my derrière is a little flat and my shoulders are relatively broad. Finding clothes that don't gap here or there is a challenge.
How to Style Sneakers
Your Ultimate Flat Shoe Wardrobe and Where to Find Those Elusive Perfect Shoes
Large Bust Dressing Guide
3 Steps to Flatter a Large Bust When Wearing a High Neckline
What to Wear on Camera
Alterations are Not a Sign of Failure
If You'd Like to Define Your Style and Discover Your Colours
If you're sick of wasting money on clothes that don't work and you know there is a better way, then join my 7 Steps to Style program and get the right information for you and your style.
Subscribe to my Podcast
You can now get these videos as podcasts subscribe and never miss an episode
Send me Your Questions
Please email me your questions to be included in my Q&A Lucky Dip!