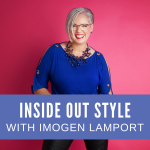 In This Episode
0.10 I've retired now and in my working life found it easy to dress smart. Now I'm more into dressing casual but I really don't know where to start. I used to enjoy wearing good fitting jeans with a smart dressy top but the challenges of menopause have made it difficult to wear jeans as I no longer have the same shape. I am also petite and if I wear something to cover my flat bum it cuts me in half.
4.20 My stomach with thyroid disease it has gotten bigger. I don't look good in any of my clothes. I need to find clothes that don't emphasize my stomach or hips for that matter. I can no longer exercise like I use to as I have hip and back issues. I walk 3 miles a day use light weights twice away, eat healthily but my stomach and hips still stay the same.
7.35 I suppose my biggest style challenge at the moment would be, what am I going to wear ?
I have 2 wardrobes and they are completely full with no room for anything else.
1 wardrobe is workwear and the other is everything else.
I mainly struggle with workwear wardrobe. Everything I wear is just on repeat. Long pants and nice blouse (mainly floral)
Every day black or navy pants and blouse. I have had my colours done recently so keen for other colour pants to mix things up a bit but can't find any other colour pants except black or navy.
I'm not a big skirt fan but if I found a nice skirt I would wear as a change and a work dress, but can't find anything suitable
Air conditioning at work is terrible too so at the moment I'm always in a cardi too, which adds to my depressing style mood.