The time that most women find it easiest to create a really effective wardrobe capsule is when they're pregnant. Aware that they won't be wearing these clothes for the next 2-5 years, they buy judiciously. Carefully choosing clothes that all work together, that can be mixed, matched, layered, dressed up and down.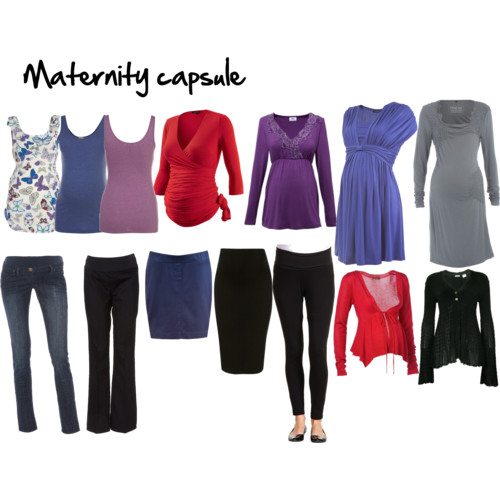 When you are putting together a maternity capsule make sure the colours work together. Here I've chosen black, grey and navy as my neutrals, then added in the analogous scheme of red, red-violet and blue as my colours for versatility.
These pieces can be layered easily, which is important when you're pregnant as you may find that you run hotter than your normal body temperature, so it's good if you can take off a layer as you warm up.
You will also find that you can bring in garments from your pre-pregnancy wardrobe and wear them, particularly things like jackets and cardigans. For example, add in a denim jacket to this capsule which won't be able to be buttoned up (but we tend to wear them unbuttoned anyway) over the top of the dresses and tops.
You might also find that if you're in a cooler climate, you have some long sleeve knit tops that can be worn underneath the dresses and tops to add that extra layer, but you don't have to worry about them riding up and exposing your stomach as they are not the top garment.
Want to be inspired? Head over and look at Nic at Domestic Sophisticate who is about to have a baby and has lots of fabulous maternity outfits posted!
And if you are a mum and need some tips on a more organised life or just a great recipe for chocolate cake then I'd suggest you go and check out my friend Nicole's blog – she's the Planning Queen and has 5 kids, so there are lots of real life tips she has to share!
What was your fail-safe, go-to outfit when you were pregnant?