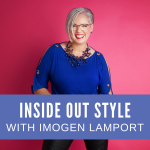 In This Episode
0.08 I just watched your post about flattering necklines and how matching your jawline is best. I do not wear the types of necklines I would look best in due to modesty reasons. How does wearing something under a v-neck or scoop neck affect the "ideal" neckline of the scoop or v-neck? Can I use necklaces over boat or crew necks to get this ideal neckline instead?
3.09 I struggle with finding clothes as there is so much Inconsistent sizing between stores.
8.28 my weight which has settled in my middle. I am attempting to lose weight but even if I do. I believe I will never have a waist again. I am a rectangle . At my best I will be a small rectangle. It is quite a change since my youth when I was an hourglass I am also short so when I attempt to hide the middle with longer tops I have no legs. I do not think it is possible to dress this and look attractive in any way. I try to be moderate and so have lost interest in clothes
More about Neckline
Your Ultimate Guide to 17 Necklines and Which to Choose to Flatter Your Features
6 Insanely Simple Ways to Know if Your Neckline Need a Necklace
Understanding Balance Points and How They Influence Your Choice of Neckline
Body Proportions
How Often Should You Re-Evaluate
How Often Should You Re-Evaluate Your Style Recipe and Colour Palette
How Your Body Shape May Change with Age and Weight Gain or Loss
If You'd Like to Define Your Style and Discover Your Colours
If you're sick of wasting money on clothes that don't work and you know there is a better way, then join my 7 Steps to Style program and get the right information for you and your style.
Subscribe to my Podcast
You can now get these videos as podcasts subscribe and never miss an episode
Send me Your Questions
Please email me your questions to be included in my Q&A Lucky Dip!