Picking Your Size from On-Line Size Charts
by Catherine Scholze
The internet has been a boon to independent designers over the last ten years: it allows us to talk directly to our customers and meet the needs of under-served markets that conventional retailers can't address. But it also means that you, the customer, cannot try on our clothes before you buy them. We've talked a lot about fabrics, design lines and garment structure. Now let's talk about how to pick the right size when internet shopping.
The clothing industry has played with sizing for decades in the never-ending mission of finding ways to sell to customers. That means we can not attach a lot of meaning to the number on the size label. It's really just a number that connects the measurements in the brand's size chart to a pattern used to cut and sew the garment ordered by a customer. So, don't worry so much about the size number. Instead, focus on the measurements. I know–most of us are not fans of keeping track of measurements, but doing so opens doors to a much wider variety of shopping options. Here is how to measure your self.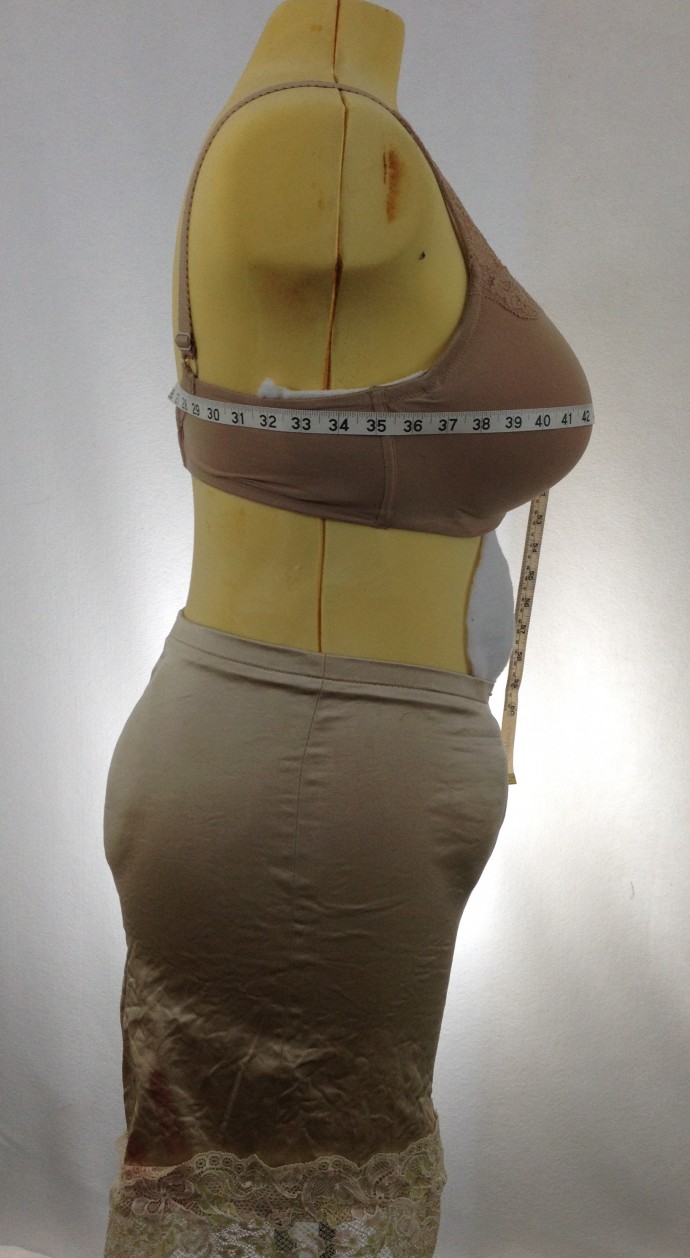 1. Put on the undergarments you plan to wear under your new purchases (you should also do this when you are shopping in a store!). If you always wear shapewear, wear it to take your measurements. If you like to mix it up, take measurements in your shapewear as well as your favorite undies. You'll be surprised how much shapewear changes your measurements!
2. For most of your measurements, make sure the tape measure is parallel to the floor. You can check this in a full-length mirror, or get a friend to help. Take the measurements in a relaxed position (don't hold your breath!), and note them in a notebook or your favorite note app (I live on Notes!).
3. You should measure a few basics first:
a. Your bust at the fullest part: wrap the measuring tape from the center of your chest, around your bust and back to the other side of your body. It's really important to make sure the measuring tape is parallel to the floor for this measurement. And definitely take the measurement while wearing your every-day bra. My mannequin is wearing one of my favorite every day bras for this measurement.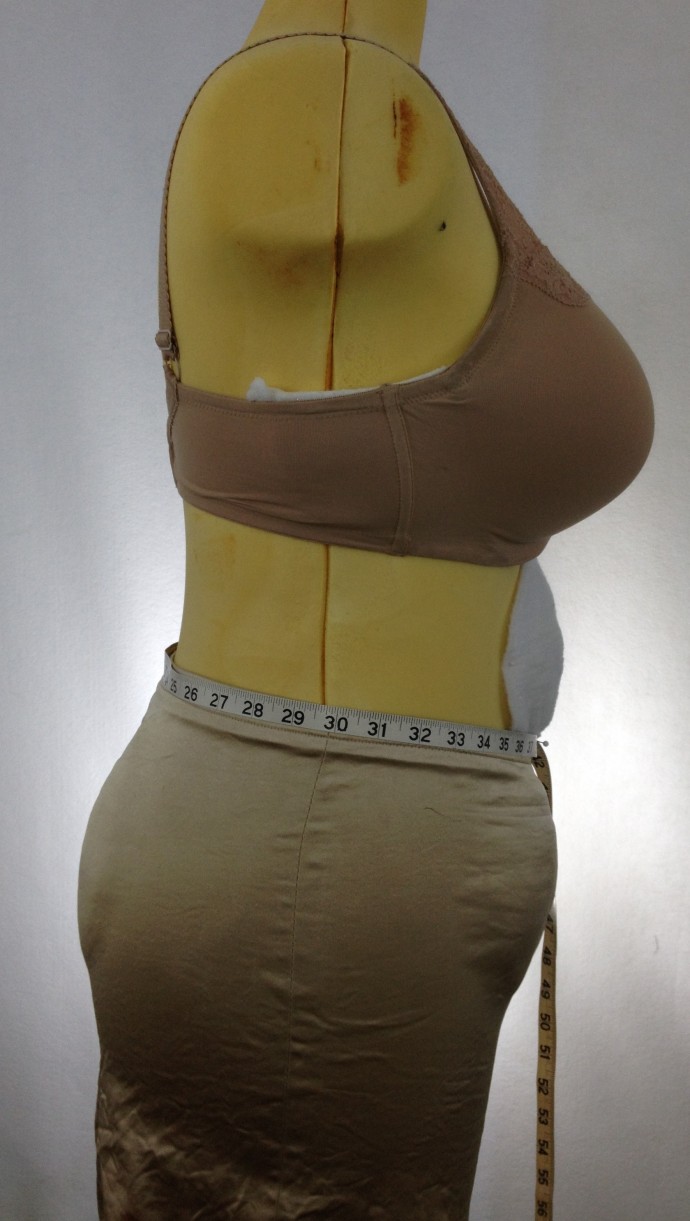 b. Your natural waist, which is where your belly button is. Hold the measuring tape at your belly button, and wrap the tape around your back and sides. Relax! You can see that my mannequin's natural waist is not parallel to the floor—she has a swayback just like I do. For this measurement, you want your true waist circumference, so this is the exception to the "parallel to the floor" rule.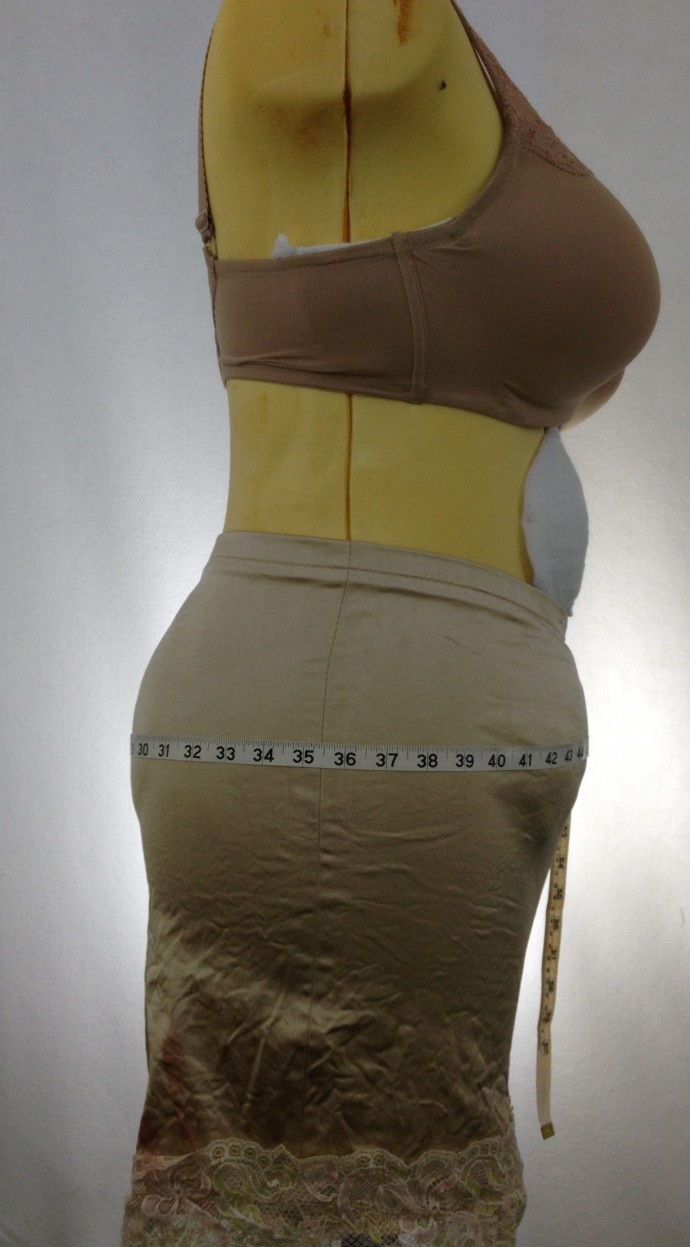 c. Fullest part of your hips. This is often between 4-7″ below your natural waist, but varies a lot from person to person. On me, this is ~ 5" below my natural waist.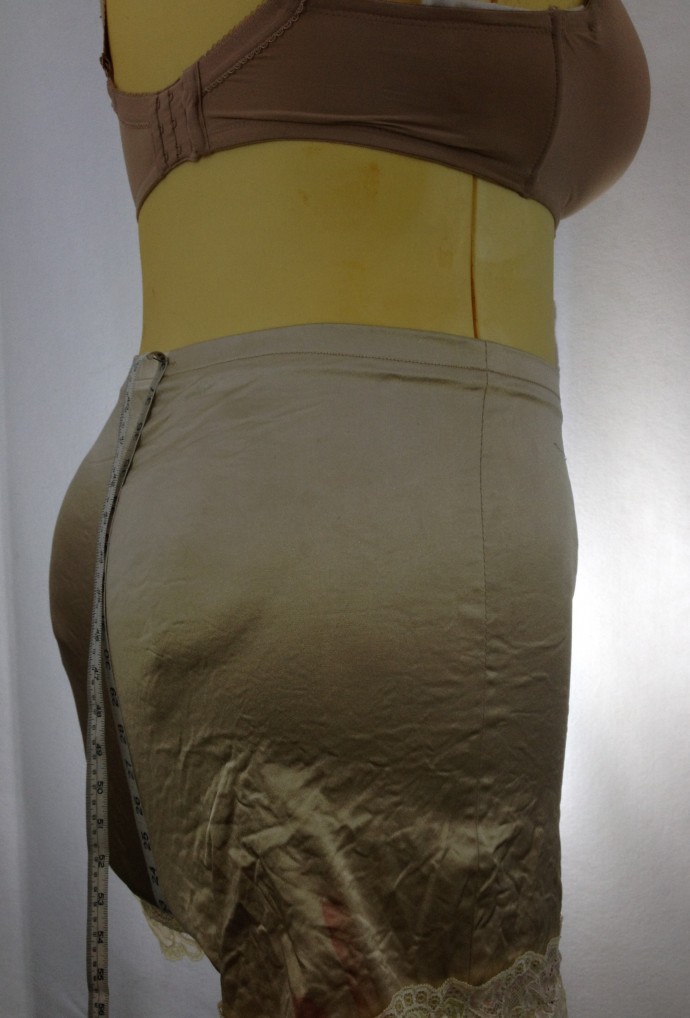 d. Rise. The is the length of the crotch seam in pants and makes a huge difference between a great-fitting pair of pants, and one's that you wear once and toss to the back of the closet! Measure from your belly button, between your legs to the point of your natural waist in the back.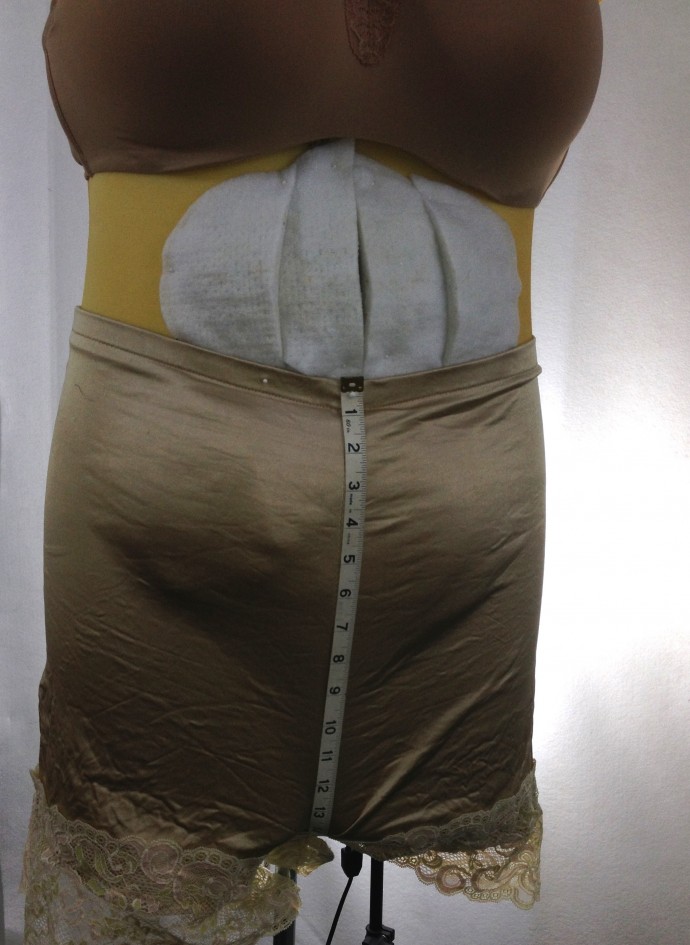 Having a hard time finding that? Tie a string or ribbon around your natural waist so that you don't have to guess. Here, the shaper sits just at the natural waist so I can use it as my reference point.
4. You can add a number of measurements to your list that will help with your shopping:
a. Underbust: this is the circumference of your body at the bottom of your bra band. The difference between your full-bust measurement and under bust measurement gives your cup size for bras and swim suits.
b. Calf at the widest part. Key for boot shopping!
c. Inseam. This tells you how long your pants need to be, and will also help assess where skirts end on your leg. You should measure this with the shoes you plan to wear with the garment.
If you are working on your diet and exercise routine, you should track your measurements once per month. Adding a little walking or stairs to your weekly routine will change your measurements before you see the results on a scale, and may mean you need to buy a smaller size if you are in between sizes on a chart.
Here are my current measurements, and how I would pick my size from my size chart:
Full Bust: 46 ¼"
Lower bust: 36 7/8"
Waist: 37 ½" (with shape wear)
Hip: 45 ¼"
Rise: 27"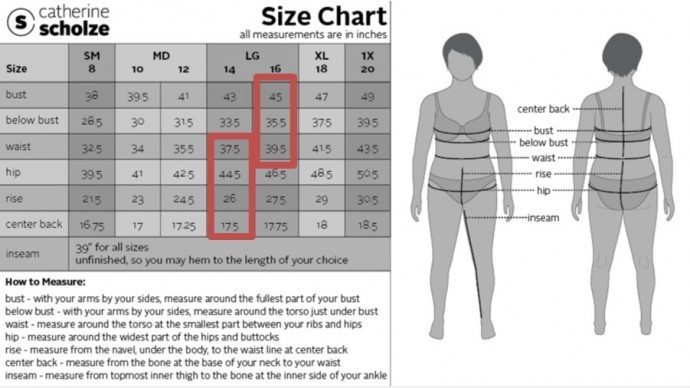 You can see that there are 2" between sizes for each of the circumference measurements (bust, waist, hips), and I am in between sizes these days (you know, diet and exercise!). I prefer my skirts, to be on the snug side. So I would buy the size 16 top and size 14 skirt. I much prefer to skip the shapewear with pants, so I would buy the size 16 pants. Since this is my own collection, I can say that I wear these sizes regularly. If I lose more weight, I'll have to get the size 14 pants but the 16 are still super comfortable. My fit model is a size 16 in both top and bottoms.