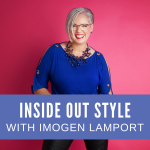 In This Episode
0.08 I'm a farmer's daughter / farmer / farmer's wife / farmers mother so my lifestyle has always needed comfortable & practical clothes. I'm now 70 & recently retired.
I still want my clothes to be comfortable & practical but I want to wear pretty & smart things as well. Your quiz says Relaxed but the colours you link to that are revolting…. they belong down the paddock up to my ears in mud or dust. Please can we have some Nice, Pretty, Smart & Practical style suggestions with no heels in sight?
7.10: My neutrals are black, navy and grey in the autumn/winter, and beige in the spring/summer. I've got a good capsule wardrobe and I look after my clothes. I am definitely a classic but being retired, it's mostly casual. I always wear jewellery and makeup.
However, to make everything work better together I need to get over my aversion to wearing black and navy together – do I need to drop one of these colours? My accent colours are reds and turquoise/teal, both of which I love but, again, I'm not so keen on wearing them together in an outfit.
I have a few handbags in neutral colours plus tan, but have recently settled on a good grey leather bag, which seems to go with everything, and means I don't need to change my bag very often, something I'm bored with doing.