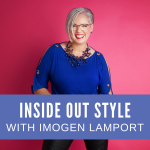 In This Episode
0.11 My question is about value and color, given that mine seem to change drastically based on lighting. Regardless of lighting, my skin has a lot of color, but my eyes and hair both seem to do a pretty drastic shift in color and value based on lighting when I look at myself in photos ., I'm really not sure how to interpret my value contrast. I would love to hear your advice on the topic!
2.05 I have a more yang physicality (body—larger bones, a relatively straight waist) but am otherwise quite yin (personality/voice/movement/facial features). How does one deal with this contrast to create a harmonious look?
4.32 My biggest style challenge at the moment is how to get the courage to make the drastic changes I know I need to make with my image and style. I'm 35 and I've had zero style for so long that I worry that if I suddenly start wearing makeup and flattering clothes and beautiful jewellery, I'll feel clownish or like I'm playing dress up.