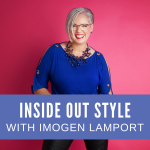 In This Episode
0.08 How do I look smart when I just want to wear comfy knits?
1.39 I have a long body and short legs – how can I look in proportion without wearing heels?
3.25 How do I organise my closet with clothes that reflect me, at the moment it's all over the place and I'm not sure where to start?
Dressing Up with Knits
More about Proportions
How to Build Your Wardrobe
6 Brilliant Strategies to Creating the Perfect Wardrobe Part 1
If You'd Like to Define Your Style and Discover Your Colours
If you're sick of wasting money on clothes that don't work and you know there is a better way, then join my 7 Steps to Style program and get the right information for you and your style.
Subscribe to my Podcast
You can now get these videos as podcasts subscribe and never miss an episode
Send me Your Questions
Please email me your questions to be included in my Q&A Lucky Dip!