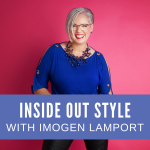 In This Episode
0.08 I've just had thyroid surgery and, as a result, I have a 7cm scar on the front of my lower neck. How can I "dress" my portrait area without drawing attention to the scar or having to wear scarves or jewellery over it?
2.28 My style isn't cohesive enough. When I make moodboards, they feel to all-over-the-place and don't convey a unified style. Of course, I could just set artificial limits for my style, and that would make my wardrobe cohesive, but I don't want to do that. I want my likes and personality to form one unified, visually appealing and memorable style. Like a wardrobe for a fantasy character. I want my style to be beautiful, distinctive, cool, and memorable, like a cool eccentric character. I love creating characters. When I design their wardrobes, it comes really easily to me, to make a distinctive, visually appealing clothing style for my characters. But when I try doing it for myself, it's too messy and incohesive. I just don't understand, why is it so hard to form my own style? I've been at it for 5 years now. It's so easy to create a style for a character. When I create a character, I know their characteristics and create a visual style based on that.
6.53 How to formulate a capsule wardrobe to take me into the next phases of my life – 50s 60s 70s?
Accessorizing
How to Choose Linking Pieces and Accessories to Co-ordinate Your Outfit More Stylishly
Where to Find Unique, Interesting and Low Cost Accessories to Add to Any Outfit
How to Have Cohesive Wardrobe
Formula for Your Wardrobe Capsule
Wardrobe Capsules, Outfit Formulas and Uniforms – Which is Right for You?
If You'd Like to Define Your Style and Discover Your Colours
If you're sick of wasting money on clothes that don't work and you know there is a better way, then join my 7 Steps to Style program and get the right information for you and your style.
Subscribe to my Podcast
You can now get these videos as podcasts subscribe and never miss an episode
Send me Your Questions
Please email me your questions to be included in my Q&A Lucky Dip!