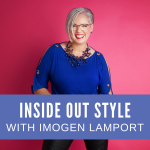 In This Episode
0.08 In a video you said that you look at the details of jewelry to avoid buying "cheap". What specific things do you avoid? What specific things do you want?
3.03 I want to incorporate my darker greens into my wardrobe but am having trouble working out the best neutral to go with them. My palette is "Elegant": Value contrast medium/high, Colour contrast medium. Charcoal and greys seem to make the greens quite dull and my burgundy make me look like a Christmas decoration. Think need a happy medium, something that will give the green a "bite" without going too "carnival". Is there a neutral that would do the trick?
If you're sick of wasting money on clothes that don't work and you know there is a better way, then join my 7 Steps to Style program and get the right information for you and your style.
Subscribe to my Podcast
You can now get these videos as podcasts subscribe and never miss an episode
Send me Your Questions
Please email me your questions to be included in my Q&A Lucky Dip!