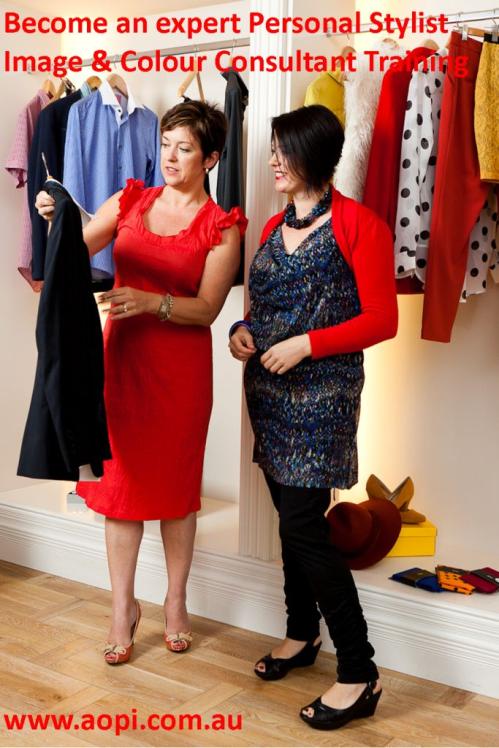 Do you think that you'd love to do what I do for a career?  Or maybe you're already working as a personal stylist and are smart enough to realise that training could really take your skills to the next level.  If so, why not check out our training courses.  We have a classroom based training coming up in mid- August in Melbourne, but if you can't make that (or live elsewhere in the world) why not consider our online training course.
What Sets The Academy of Professional Image Apart From All The Others
Getting the right training and skill set is crucial to your future success. Our Principals Clare Maxfield AICI CIP and Imogen Lamport AICI CIP combined have had more than 20 years experience in the industry and are both recent past Presidents of the Australian Chapter of the Association of Image Consultants International (AICI) as well as a past and present members of the International Board  for the AICI.
However choosing an Image Consultant training school with extensive Image Consulting experience is not enough to guarantee your success. What really sets The Academy of Professional Image apart is:
Professionally accredited trainers – so you are taught by people with excellent teaching skills
Small class sizes – we know you need personal attention so we keep our class sizes small to ensure that you get all the individual attention you need to succeed.
No measuring or computer required – we teach you to use your eyes so you will never do invasive measuring of your clients (which makes them happy) and allows you to work from wherever you choose, no need to set up an expensive studio and be bound to a computer
Experiential training – we know that the best way to learn is to do it, so you will be doing hands on exercises and consultations with real clients during your training course under our guidance.
Start Up Toolkit Included – we know that you need to start practicing your skills the minute you finish training.  So we've included your start up toolkit in the price of the training so you can hit the ground running and immediately put into action all that you have learned in the training.
No purchasing contracts – unlike other training institutions you're not locked into purchasing deals for the tool kits and products you need to start operating your business. We can provide what you need of course, but you are free to source your own materials.
Innovative colour and style tools – we have created the most advance and innovative colour system available that is customisable and easy to use.  We are constantly developing and updating products and tools to use with your clients.
Internationally certified – our primary course is internationally certified and is recognised by the AICI (Association of Image Consultants International)
Ongoing support and networking–monthly webinars, forums, private Facebook groups, AICI FLC Examination support and ongoing access to your to your trainers.
Ongoing mentoring – we want you to succeed so we provide ongoing mentoring to help you achieve your dreams.
Course Duration
Personal Colour Analysis 6 days
Personal Style and Image Management 6 days
Business Development 1 day (Free when you book both the Colour and Style courses together).
Payment plans available.  Book your place today!
Online Image Consultant Training Special
Can't make classroom training?  Why not enroll in our Online e-Learning Image Training course.  Until the end of August 2012 we will be offering the Confident Consulting in Style for Men course FREE when you enroll in Confident Consulting in Style for Women.  That's a $670 saving!
Email and phone support – your training package includes unlimited email support and regular phone calls to ensure you are staying on track.
Try before you buy – we want you to be sure that this business is right for you, so we're giving you the first two online lessons for free. Simply work through these lessons and if you're ready continue, enroll in the training, either online or classroom and you're on your way to starting your new business. Can't be fairer than that can we!
You can enroll here now!