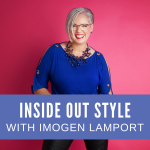 In This Episode
0.04 Being older and not very tall I struggle with knowing where and how to shop for my style
7.09 What is your opinion on the French/half tuck of tops? It works with my style recipe and it definitely improves proportions sometimes. But I always feel a little bit like I am trying too hard to look cool. Especially with button down shirts. Is this tuck a fad or a trend? Is getting the proportions right more important than anything else?
8.50 One of my big style struggles is having to decide each day what to wear. I don't always have time to be creative, but wish the decisions were easier. Maybe that I had some more style options that I like or were easier to "go to" that I don't have to fret through every morning.
Tips for Petites
How to Find Clothes that Fit When You are Petite and Plus Size
The Art of Getting the Right Proportions
Creating your Outfit Ideas
How to Include More Interest and Unique Colour Combinations in Your Outfits
If You'd Like to Define Your Style and Discover Your Colours
If you're sick of wasting money on clothes that don't work and you know there is a better way, then join my 7 Steps to Style program and get the right information for you and your style.
Subscribe to my Podcast
You can now get these videos as podcasts subscribe and never miss an episode
Send me Your Questions
Please email me your questions to be included in my Q&A Lucky Dip!