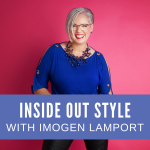 In This Episode
How do I choose a handbag size to not overwhelm my body or to look miniature? As for handbag colour, does a person match their shoes, or blend or contrast with their clothing?
How do I dress in a feminine way when I have to wear orthopaedic shoes and have heavy bone structure, with wide shoulders and don't feel small and dainty suits me, plus I'm an intellectual person and I want people to know this about me?
I've loved my autumn colours but am now going grey and finding it hard to figure out what colours suit me anymore. I cannot see anymore what suits me now
Choosing the Right Handbag
6 Top Tips for Choosing a Handbag That's Both Practical and Beautiful
Feminine Dressing TIps
7 Things You Must Consider When Choosing a Flattering Floral Print for You
Column of Colour for Grey Colouring
9 Ways Knowing Your Best Colours Will Change Your Life as Well as Your Wardrobe
How Often Should You Re-Evaluate Your Style Recipe and Colour Palette
If You'd Like to Define Your Style and Discover Your Colours
If you're sick of wasting money on clothes that don't work and you know there is a better way, then join my 7 Steps to Style program and get the right information for you and your style.
Subscribe to my Podcast
You can now get these videos as podcasts subscribe and never miss an episode
Send me Your Questions
Please email me your questions to be included in my Q&A Lucky Dip!