One question I'm frequently asked about is how to transition colour palettes as you age (or if you make a radical hair colour change). Ageing softens out colours – so rather than the bright colours of youth, we gently soften down as your hair, skin and eyes lose pigment.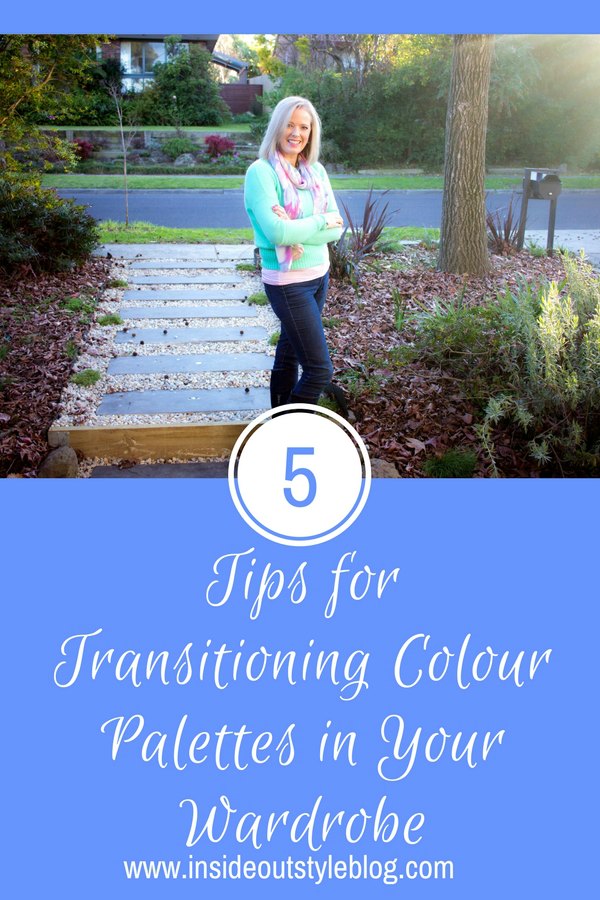 Jill Chivers of Shop Your Wardrobe and I got together to discuss our own experiences and hope that our approaches in changing palettes may help you deal with yours. Sadly the video camera that we recorded it on did not focus on us, and we are so fuzzy that it's unwatchable, so instead, I offer you a "podcast" version to listen to instead. If you'd like to download it to listen when you're driving, doing the housework or walking the dog, you can get it on the Castbox app (look for it in your app store – it's available on both IOS and Android)
This is a common issue for many of us as we age and our hair naturally lightens up, and goes "light black" (as my son would call my grey hair when he was a tiny tot and didn't know the word for grey). Even if you add highlights to blend the grey, that's adding more lightness to your overall appearance, and will also change your contrast levels.
Now if you go the whole hog and totally embrace the grey, you will most likely transition palettes. This can mean that your wardrobe of clothes are in colours are no longer as flattering.
Give it Time
It will take time to transition your wardrobe, both mentally and emotionally, as well as in the physical process of replacing your clothes.
Your colouring doesn't change overnight and neither does the process of changing your wardrobe. It takes years to move from one palette to another and so it's Ok for your wardrobe to take some time too.
It will take you time to adjust mentally and emotionally to your new palette. If you've been wearing the same palette for a decade or longer, it can be really tricky to make a sudden change, to see yourself in a new light, to adjust to this example that you are actually ageing (if this is the reason for the change). It can be a true jolt, a reminder that you don't stay the same your whole life. I know that I am sometimes shocked about looking older, I don't think of myself as old, and yet I'm truly in middle-age. So having a physical reminder of this can be something that takes a lot of time to adjust to.
It's not just a physical thing, there are a lot of psychological aspects that go along with transition. You may be struggling with these aspects and it's important to be kind to yourself.
The Best Wardrobes are Built Over Time
Making a wholesale change to your wardrobe is difficult, both to find a whole new wardrobe of clothes at one time in the stores, in styles and colours, that fit your style recipe.
Perfect doesn't exist but great is definitely possible – let go of the idea of perfect and accept that perfect may not happen. As long as it's an 8 or more out of 10, then that's perfectly good enough (though your expectations of good enough may also change over time).
Make it as good as you can, without searching for perfect, otherwise, you may end up naked!
Tips for Transitioning Colour Palettes
1. Check Your Neutrals
Go through your wardrobe – have you already got a bunch of neutrals that are in both palettes? You may be like Jill, where the majority of her neutrals are very similar in both palettes so she already had a good basis for her new palette.
You may be like me – who's old best neutral (black) is now no longer any good, and so I've had to replace my black with white and light grey, but I got to keep a lot of my colours as my intensity didn't change, just my hair (when I went from brunette to blonde).
Start replacing items using your new best neutrals – these are the workhorses of most wardrobes! Make them great ones and they'll carry you through.
2. Add in Pieces in Your New Colours
Don't wear a full outfit of your old colours if it feels too radical, instead, start introducing your new colours into outfits, the first element I added into my wardrobe in my softer palette (that I'm currently transitioning to) was a scarf.
Bring in the new colours here and there and gradually over time you'll replace your old palette with the new.
Interweave the new colours in with the old.
3. Let Go of the Least Right
A transition can be a great time to let go of what you never really loved anyway. There may be some pieces that you've kept but don't really wear but feel bad about getting rid of because of the "sunk cost", so a change in palette is a great excuse to just let them go without guilt.
Let go of the least right first – this makes it mentally and emotionally much easier. I know when I first got my colours, it made it easy for me to get rid of the too-warm reds, the yellow jumper (what was I thinking) and the camels and tans that I knew never made me feel great. I'd got verification that they were just wrong.
4. Concentrate on Contrast and Signatures
Work with your contrast levels – if your value or colour contrast has changed with your changing colours, start wearing your old wardrobe just in new contrast combinations. Colours that aren't quite right never look as wrong when the contrast is great.
Work at creating outfits in your new ideal value – if this is the element that has changed (such as when I went from dark brunette to light blonde – my ideal value flipped and suddenly all my clothes were too dark, I had to learn to lighten up, which is why I first added new good light neutrals in my ideal value, rather than anything else).
Wear your signature colours – replicate your hair colour, eye colour and lip colour in an outfit and you'll always be wearing an outfit that has harmony with you. As you replace items, look for your new signature colours as you'll always look your very best when wearing them (provided of course that you love the styles and shapes too!). If you're not sure of your colour palette you can get this as part of my 7 Steps to Style Program.
5. Don't Bin it, Dye it!
So you've gotten rid of the clothes that never felt good on in your wardrobe purge. But how about those items you've loved, those favourites that fit your style recipe and work for your shape. These are the hardest to let go.
I say don't let go! Instead, overdye your colours – dyeing is a great way to keep those favourites in your wardrobe working for you with your new palette. Need to soften down your colours and take away the brightness? This is super easy (get all the details here) and will give your clothes a whole new lease on life.
What tips can you share that have helped you transition palettes? Please do share in the comments!
More Tips on Transitioning Palettes and What You Need to Know
Everything You Need to Know to Overdye Your Clothes at Home and Get a Brilliant Result
How to Overdye Difficult Colours Such as White, Beige, Navy and Orange