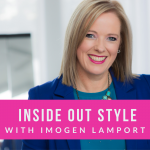 In This Episode
0.07 Could you share about finding a balance between boring and overwhelming when considering contrast in texture and stylistic elements? How does that relate to and reflect my physical attributes?
3.48 – I'm nearly 69 years old and I don't want to dress too young, however, I don't want to feel like a frumpy old woman – help please!
9.29: How to stay fashionable when half of the current fashions don't suit my shape particularly when I like the look of them.
Texture Element on your Outfit
Age-Appropriate Dressing
Should You Follow that Fashion Trend?
The Expected Fashion Lifespan of Your Wardrobe Staples and How to Identify Fads, Trends and Classics
How to Distinguish Between Fads, Trends and Classics in Fashion
If You'd Like to Define Your Style and Discover Your Colours
If you're sick of wasting money on clothes that don't work and you know there is a better way, then join my 7 Steps to Style program and get the right information for you and your style.
Subscribe to my Podcast
You can now get these videos as podcasts subscribe and never miss an episode
Send me Your Questions
Please email me your questions to be included in my Q&A Lucky Dip!