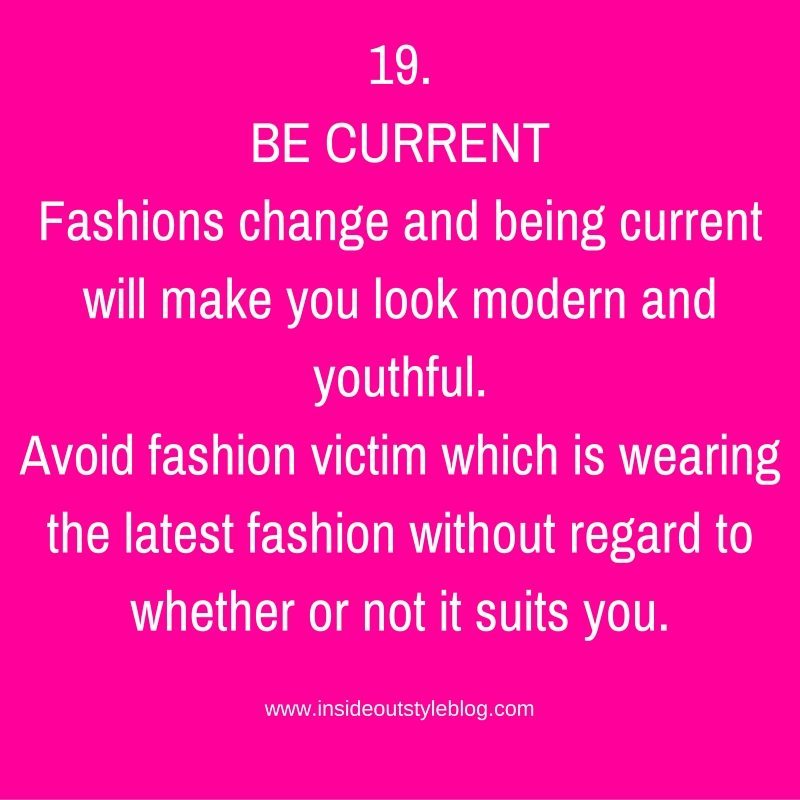 Why You Need to Update your Wardrobe
Updating your wardrobe is so much more than just keeping up with fashion.
You don't want to become a fashion victim for the sake of staying in 'fashion'. But you do need to be current, be updated, be modern. Why? Because it says that your ideas are modern. It says you can deal with change in this modern, fast-paced world. It says that you are not a dinosaur, but instead are forward-thinking.
Why would you want to be seen as forward-thinking and able to deal with change?
Well, so many businesses these days have to make changes. When they are deciding on which staff to let go of, they will shed the ones first that they feel will make the most noise about the change. The ones who will have the most difficultly dealing with change. The ones that are old-fashioned.
They will keep the ones who look like they are keeping up with the times (and of course, their work is up to scratch). What you wear communicates and you want to communicate that you are one of the ones they should keep (and promote).
Watch This
Take Action
Take stock of your wardrobe. Maybe it's time to let a few of those old-favourites go if you've had them more than 7 years.
Update your hairstyle – do this at least every 5 years. If you're holding onto a hairstyle you've had most of your life, this could be dating you to a time when that hairstyle was common and in fashion, but now looks old and dated.
Update your wardrobe every year. Not the whole thing, a few pieces, in the current silhouettes (of all the fashions out there, which are many, choose those that flatter your body shape and represent who you are).
Further Reading
Need to start from scratch with your update? Then download my free guide to creating a capsule wardrobe plus my 5 step formula for a fabulous wardrobe on a budget (if you don't have it already) to give you some tips on creating a useful wardrobe.
Check out the Vivienne Files which has heaps of help on creating wardrobes from scratch.
Is your wardrobe ageing you? Find out here.
10 Rules to Transform Your Personal Style
6 Brilliant Strategies for Creating Your Perfect Wardrobe