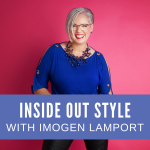 In This Episode
0.08 I love wearing jeans but my legs look skinny in jeans. Otherwise I have harmonious body a slight inverted triangle and proportional legs – what are my options?
4.34 I like comfortable clothes so tend to put on jeans/jeggings and plain V neck sweater, but really want to feel more feminine – I find skirts swivel around so I avoid them – but maybe you have a tip or two on this). Any pointers to help?
5.36 I have a 44DD bust I'm 172 tall . I've tended to hide my bust in flowing loose clothes . Tried a figure fitting dress and I was quite amazed . I do look busty but in proportion . Why is this?
Styling with Jeans
How to Flatter a large bust
3 Steps to Flatter a Large Bust When Wearing a High Neckline
If You'd Like to Define Your Style and Discover Your Colours
If you're sick of wasting money on clothes that don't work and you know there is a better way, then join my 7 Steps to Style program and get the right information for you and your style.
Subscribe to my Podcast
You can now get these videos as podcasts subscribe and never miss an episode
Send me Your Questions
Please email me your questions to be included in my Q&A Lucky Dip!