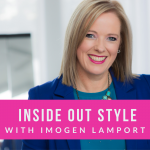 In this Video:
How to deal with boredom in your outfits and wardrobe when you can't shop?
How to do an inner column of colour without getting bored (particularly in summer when it's too hot to wear a third piece)?
Discuss Matchy Matchy. Matching shoes and accessories. Does this make the eye dart around or can smoothness be achieved better by not matching?
Outfit Boredom
Bored with Your Style? 5 Solutions to Have You Looking and Feeling Great Again
Why Do We Love What We Buy and Hate What is in Our Wardrobe?
Column of Colour
Principles of Coordination
The Aesthetics of Beauty and Style and How They Relate to Fashion

You can now get these videos as podcasts subscribe and never miss an episode