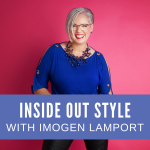 In This Episode
0:08 How light can a neutral like Navy be before it stops being neutral?
4.16 My biggest challenge is to put together a simple relaxed wardrobe in my colours
10.41 What's more important – warm vs cool, or light vs dark?
More about Neutrals
Relaxed Mum Dressing Tips
Understanding Colours
9 Ways Knowing Your Best Colours Will Change Your Life as Well as Your Wardrobe
If You'd Like to Define Your Style and Discover Your Colours
If you're sick of wasting money on clothes that don't work and you know there is a better way, then join my 7 Steps to Style program and get the right information for you and your style.
Subscribe to my Podcast
You can now get these videos as podcasts subscribe and never miss an episode
Send me Your Questions
Please email me your questions to be included in my Q&A Lucky Dip!