Julianne from Potpourri Promenade has asked that I create set for her. She's a Mum and needs a practical and stylish wardrobe.
I've created this set for her with her colouring in mind.
Julianne has soft warm colouring, so I've avoided black, and as she needs comfort and practicality, so I've shown a few shoe options.
Julianne describes her body shape as curvy, with a tendency to weight on her bottom and thighs, plus being busty, but with more narrow shoulders, so I've included larger scale necklaces to distract from her bust. I've also avoided button up shirts as they're very hard to fit on this body shape and gone for lower necklines to make the bust look smaller.
I've gone for skirts that will disguise Julianne's curvy bottom and thighs. She likes dresses, and as she's only 5'5″ skirts and dresses will make her look taller as they disguise where the legs start. The skirts are knee-length which is the ideal length for shorter legs.
Julianne also wears jeans lots, but instead of including jeans I've put some brown pinstripe trousers which will elongate her legs, they're bootleg so they'll balance her bottom.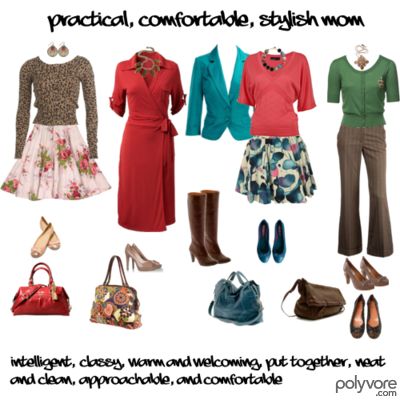 Intelligent – Soft, non-garish colours make you look more sophisticated and intelligent.
Classy – Quality accessories will give you the classy edge. Not showing too much cleavage and leg is also key.
Warm and welcoming (approachable) – colour makes you more approachable (black and very dark colours can be intimidating). Soft fabrics also make you appear more friendly and warm. Skirts and dresses are feminine and also create a more warm and welcoming appearance.
Put together – matching accessories to your oufits will make you look put together.
Neat and clean – staying away from frumpy clothes, keeping your clothes in good order, de-pilled and fitting well all work in your favour.
Comfortable – flat shoes and knit fabrics are comfortable and practical, easy to wash and wear for a busy mum.