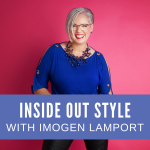 In This Episode
0.08 Petite A/8 Shape and finding that collared buttoned shirts bulk up when tucked in and untucked just make me look wide – should I throw them all out?
1.45 I'm a magpie shopper and just pick things up I like but end up without complete outfits – help – how do I create a cohesive wardrobe?
5.48 How do you look stylish in casual outfits?
Dressing a Petite Body
How to Find Clothes that Fit When You are Petite and Plus Size
Building Your Wardrobe
Developing Your Style Recipe – Tips and Tricks from the Professional
9 Ways Knowing Your Best Colours Will Change Your Life as Well as Your Wardrobe
Stylish Casual Outfit
6 Things to Look for When Choosing Dresses and Skirts for Relaxed and Casual Environments
8 Ways to Look Stylish in a Casual Environment when Jeans are Not Your Thing
If You'd Like to Define Your Style and Discover Your Colours
If you're sick of wasting money on clothes that don't work and you know there is a better way, then join my 7 Steps to Style program and get the right information for you and your style.
Subscribe to my Podcast
You can now get these videos as podcasts subscribe and never miss an episode
Send me Your Questions
Please email me your questions to be included in my Q&A Lucky Dip!