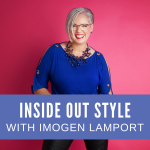 In This Episode
0.09 Help me find my style. I seem to span many styles and like to change itup. I can find elements I like in most styles so have great difficulty determining the true me.
3.44 How to match the right accessories such as jewellery, shoes, handbags etc to clothes and also my body?
9.30 Is there a good way to train your eye to see warmth/coolness in colours?
Finding your Signature Style
Styling with Accessories
Finding Your Colour Value
What's Your Ideal Value and How it Creates Balance in Outfits
5 Colour Concept Essentials You Need to Understand To Create Harmonious Outfits
If You'd Like to Define Your Style and Discover Your Colours
If you're sick of wasting money on clothes that don't work and you know there is a better way, then join my 7 Steps to Style program and get the right information for you and your style.
Subscribe to my Podcast
You can now get these videos as podcasts subscribe and never miss an episode
Send me Your Questions
Please email me your questions to be included in my Q&A Lucky Dip!