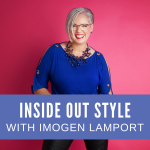 In This Episode
0.09 How do you get your own taste in clothing to offer helpful advice to others? How can you distinguish personal preference from style faux pas?
7.53 – Do muted colours on sheen fabrics read as lighter or darker? Will they advance or recede?
9.02 – Can you define mental and emotional comfort of clothing? What are the signs something is not for you? Why is it that women are often so reticient at turning up the volume with their style when that's why they seem to need the most?
Style Advice from an Image Consultant
Understanding Sheen Fabrics on Muted Colours
Dressing based on your Mental and Emotional Comfort
6 Brilliant Strategies to Creating the Perfect Wardrobe Part 1
Wardrobe Capsules, Outfit Formulas and Uniforms – Which is Right for You?
If You'd Like to Define Your Style and Discover Your Colours
If you're sick of wasting money on clothes that don't work and you know there is a better way, then join my 7 Steps to Style program and get the right information for you and your style.
Subscribe to my Podcast
You can now get these videos as podcasts subscribe and never miss an episode
Send me Your Questions
Please email me your questions to be included in my Q&A Lucky Dip!