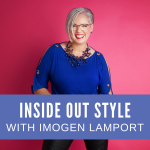 In This Episode
0.08 I'm an introvert yet love bright colours, red is my favourite and I hate neutrals – it seems there is a disconnect? What suggestions do you have for me?
4.56 – What is a soft, warm or light navy? How can I tell them apart?
9.28 I'm retired and my clothes are casual but I have way too many of them and I'd like to have half of what I 've got, yet I don't even know if they flatter me to decide what to get rid of and what to keep? How do you know what flatters you?
Refining your Personal Style
All about Navy
Finding your Style when Retiring
Before You Throw It All Out for a Minimalist Wardrobe Read This
If You'd Like to Define Your Style and Discover Your Colours
If you're sick of wasting money on clothes that don't work and you know there is a better way, then join my 7 Steps to Style program and get the right information for you and your style.
Subscribe to my Podcast
You can now get these videos as podcasts subscribe and never miss an episode
Send me Your Questions
Please email me your questions to be included in my Q&A Lucky Dip!