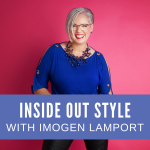 In this Episode
0.17 – Dressing for the office – to look professional but also to capture my romantic, natural personality and autumn colouring (Exotic)
3.46 – My colours have changed – what should I do?
5.26 – I love my warm greens, browns and oatmeals but I'm going grey – what colours flatter me now?
Outfits to wear to work
Wardrobe Capsule
Wardrobe Capsules, Outfit Formulas and Uniforms – Which is Right for You?
If You'd Like to Define Your Style and Discover Your Colours
If you're sick of wasting money on clothes that don't work and you know there is a better way, then join my 7 Steps to Style program and get the right information for you and your style.
Subscribe to my Podcast
You can now get these videos as podcasts subscribe and never miss an episode
Send me Your Questions
Please email me your questions to be included in my Q&A Lucky Dip!