Celebrities are getting out in short suits. Should you venture down this road and wear them to the office? The fashion mags certainly say you can, but really?
I was over at Corporette the other day and they had a poll on this subject and the resounding answer was NO!
Would you wear a shorts suit to the office? This is what the pollsters said:
Neeeeeeeeeeeeever / perhaps if suffering a concussion or some other head injury 75%
Only if I saw at least 3 superiors wearing a shorts suit. 14%
Only if the shorts were as long as an office-appropriate skirt. 8%
Sure, why not? 0%
Here are my thoughts…
Guide to Wearing Short Suits to the Office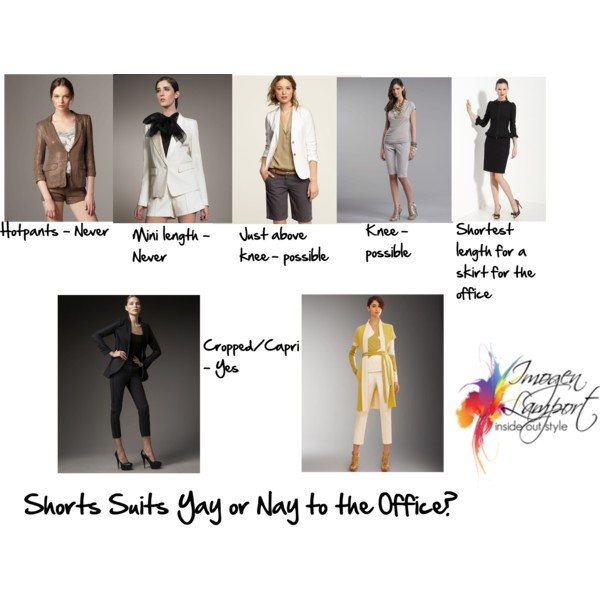 It's dependent on the environment you work in. If you work in a casual environment you could get away with a just above the knee short or knee-length bermuda short (must be tailored), but if you work in the more conservative industries I'd say that it's best to stay right away from this fashion trend.
Creative environments expect a bit more fashion consciousness and trend awareness (keeping up with what's out in the world, new and hip etc) so those kinds of places – fashion buying offices, magazines etc yes there could be a place for the shorts suit.
The problem is that shorts are a fairly difficult to wear garment for many women, they tend to be wider than they are long which can make you look boxy. Also, we associate shorts with holidays and leisure activities not business, so wearing shorts to the office is sending out mixed messages.
I'd say that either just above the knee or knee-length are the shortest you should wear to an office, and I'd advise the same for a skirt or dress too. Just remember, skin is exciting and exposing too much makes you appear much less business-like.
If you work in a more conservative environment you can wear a cropped or capri pant, but this is also better on your casual Friday rather than as an everyday alternative to a full-length pant.
What do you think? Should you wear shorts to the office?