Reader Question: "Where is the best place for a V-shape body to wear brooches? I'm especially interested in areas in the portrait since the brooch can help with both value contrast and colour contrast."
Most women when getting dressed focus on the body parts they like least. This is completely the wrong way of going about dressing.
"If you're looking in my eyes you're not looking at my thighs." This is one of my favourite sayings – and it's so true! Your face is the place we look when we are communicating with you.
You should focus on dressing your portrait first as that draws attention to your face. Brooches are an excellent way to accessorise your portrait and add that final touch that will complete your look.
Where to Wear Your Brooches for the V Body Shape
Fortunately, there are lots of ways to wear brooches – watch the video!
V-Shape bodies, also called the Inverted Triangle shape, have broad shoulders and narrower hips and thighs, so we want to create balance and draw attention towards the centre of the body. This is why tops with narrower openings such as narrow V-necks, crew necks, keyhole necklines and gathered necklines look great on you.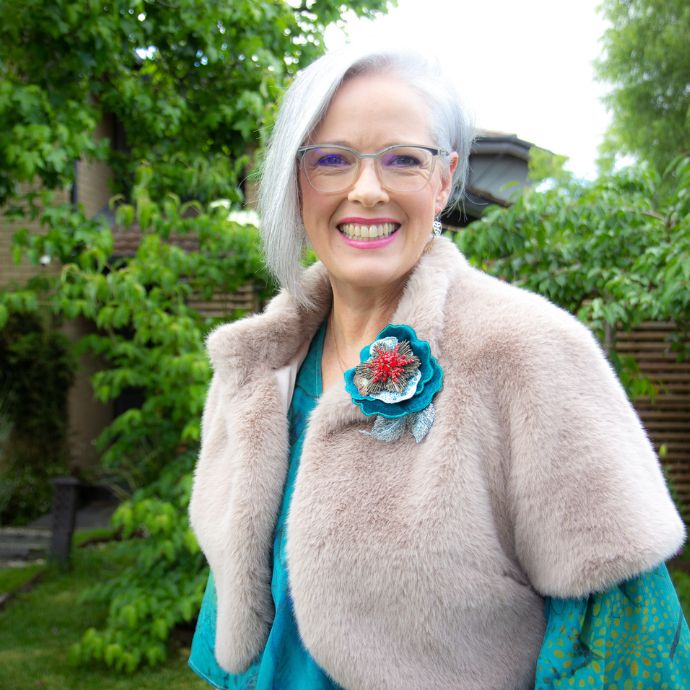 Brooches worn closer to the centre of the body would be perfect for a V-shape because they draw attention right to the middle of the body and away from your shoulders. Brooches worn close to the neck, on shirt collars and narrow jacket lapels also draw the focus to the centre of the body.
Jacket lapels are a traditional place to wear brooches and pins. This is the most versatile place where you can put pieces of any type, size or colour. Let your imagination go wild and your personality shine! When wearing a brooch on a jacket lapel, you can create a longer vertical through the centre of your body by wearing the brooch slightly further down. If the jacket has a wide lapel (not generally advised for V shape, as it draws the eye outwards to the shoulders), keep the brooch close to the neckline.
Small brooches can also be worn over the buttons on a shirt, again creating a long vertical line through the centre of your body.
For the petite V-shapes, keep the brooches higher up the body and the overall scale of the brooch smaller to draw attention to the face without overwhelming your frame. Finally, don't forget about adding a bit of volume to your lower half with a skirt or trousers to balance out the broadness of your shoulders.
Keep in mind that brooches and pins are more noticeable if they contrast with the background. Experiment with matching or contrasting the brooch colour to the colour of your eyes.
Whatever your body shape, the right brooch can be an effective and stylish way to complete any outfit.
Body shape is just one small piece of what I call The Style Puzzle (find out all about the elements of that here). There is no particular pathway that you will follow – this is why putting together your own style guidelines as to what works for you is a layered approach – taking the elements that fit you and leaving what is not relevant to your unique body and features.
If you're unsure of your body shape, then take my Body Shape Calculator Quiz . Then download your body shape bible for all the tips and advice on what silhouettes work for you.
If you'd like my professional opinion on your shape, proportions and variations, you can get this as part of my 7 Steps to Style program which also covers all the pieces of the style puzzle to help you start building a wardrobe full of clothes you adore. The clothes that make you feel confident and look fabulous every single day.
Related Reading