Reader Question: My biggest style challenge is finding my signature style. Despite my creative, rebellious nature, I tend to gravitate towards very basic clothing (although I'm partial to graphic tees, Converse sneakers, and my motorcycle jacket). I am trying to move up in the corporation I work at. I've been investing in some work clothing that matches my coloring. But I am struggling to find a signature style that matches the brand I want to project (I'm a corporate storyteller).
One thing I love to do is to layer tons of jewellery…I am not sure that's enough. But maybe you can tell me!
What is a Signature Style Anyway?
It can be a look that is almost like a uniform, think Vogue editor Anna Wintour (signature bob, frock and sunglasses), or Ellen Degeneres (pants, shirt and sweater or vest), or Jackie Kennedy Onassis – where you can pretty much guess what they will wear each day. It's a very defined look if you go for the uniform version.
View this post on Instagram
Then you could look at signature style as being something less uniform and much more fluid, like Lady Gaga, one day a meat dress the next head to toe ostrich feathers, they certainly aren't uniform like, but they are both kind of outrageous statements in their own way.
View this post on Instagram
Or you could look at finding something identifiable in every outfit that says "brand you" which for my friend and co-creator Jill Chivers is leopard print. In every outfit, there is a leopard element (she discusses this in this post on signature styles). Or centenarian Iris Apfel who is known for her big round glasses. For you it may be something specific like this or it may be less specific, but still, there will be something identifiable about every look and outfit for it to be your signature style.
View this post on Instagram
1. Know What Works For Your Body and Colouring
This is the foundation for where to start. If you don't know what actually works for you, that's in harmony with your unique body and colouring you'll find it hard to develop a signature style that you love and that makes you both feel and look great every day.
Discover what's in harmony with your body shape – take my free quiz here. This is just part of your body equation, and a good place to start – want to get right into depth – then join my 7 Steps to Style program
Understand the impact of colours and why getting a colour analysis for your current colouring is so valuable here.
One of my daughter's friends asked me if "blue was my favourite colour" because I wear blue so frequently – and yes it is a favourite – but it's a favourite because it's a signature colour for me. You may find that there are certain signature colours that become a part of your signature style!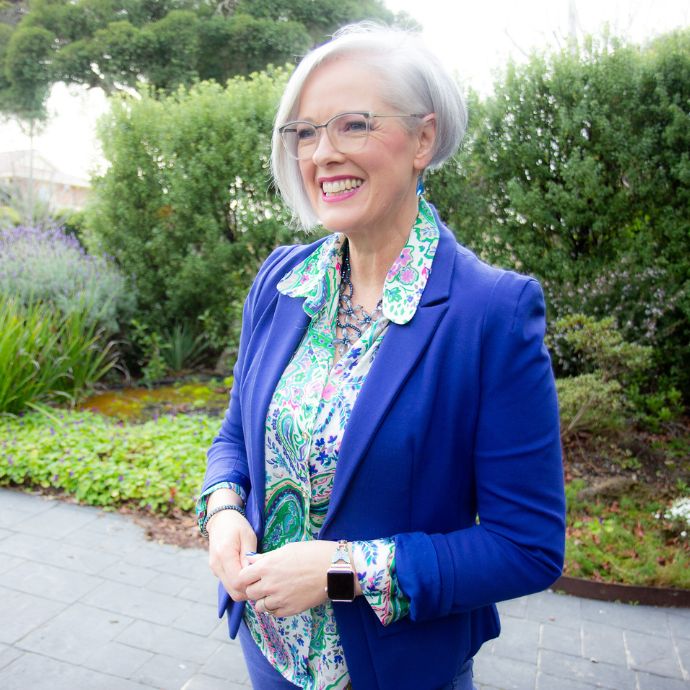 2. What Are Your Favourites?
Look inside your wardrobe and notice what you regularly wear. Are there particular garments you love to wear, maybe it's a particular pair of jeans or a jacket that you love. What is it about these garments that you love so much? How do these favourites make you feel? What is it about these garments that you love? When you look in the mirror, how would you describe how you look?
Nailing down what you love and how you want to look will give you a great starting point to finding your signature style.
Do you have multiples of any particular garments, type or style of garment in your wardrobe? Maybe your'e the wrap dress queen, or the biker jacket godess, or the boho top aficionado. Whatever it is this could be a great indicator of your signature style.
Butterflies are one of my signature motifs (because I love what they signify – transformation) – now I don't love all butterfly prints, but I do have a few butterfly pieces and jewellery items in my wardrobe and when I stumble across a butterfly item I love, it does come home into my wardrobe!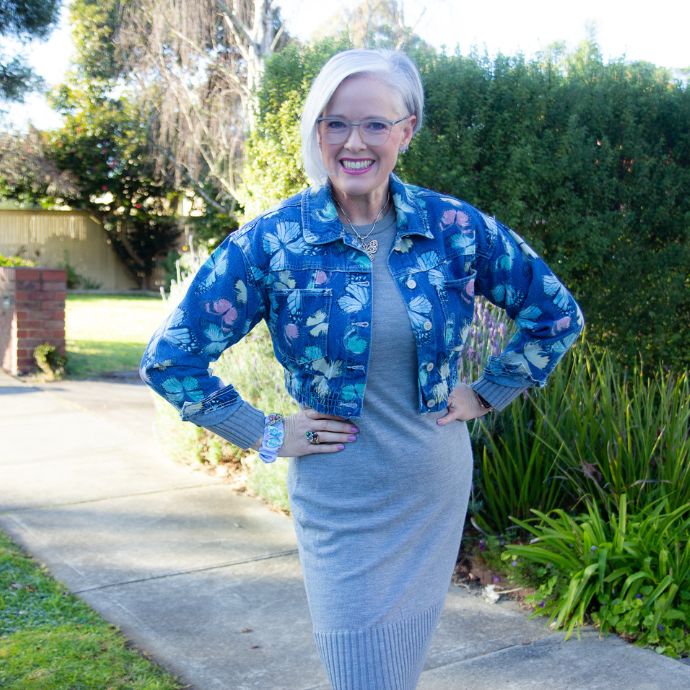 3. What Prints and Patterns are in Your Wardrobe in Multiples?
Look in your washing basket, what are the prints and patterns that you wear the most. Stripes, checks, florals, animal print, polka dots, or something else? Do you wear lots of different prints, or tend to go to the same sorts over and over?
If you have a style of print that you wear all the time, this could be an element of your signature style.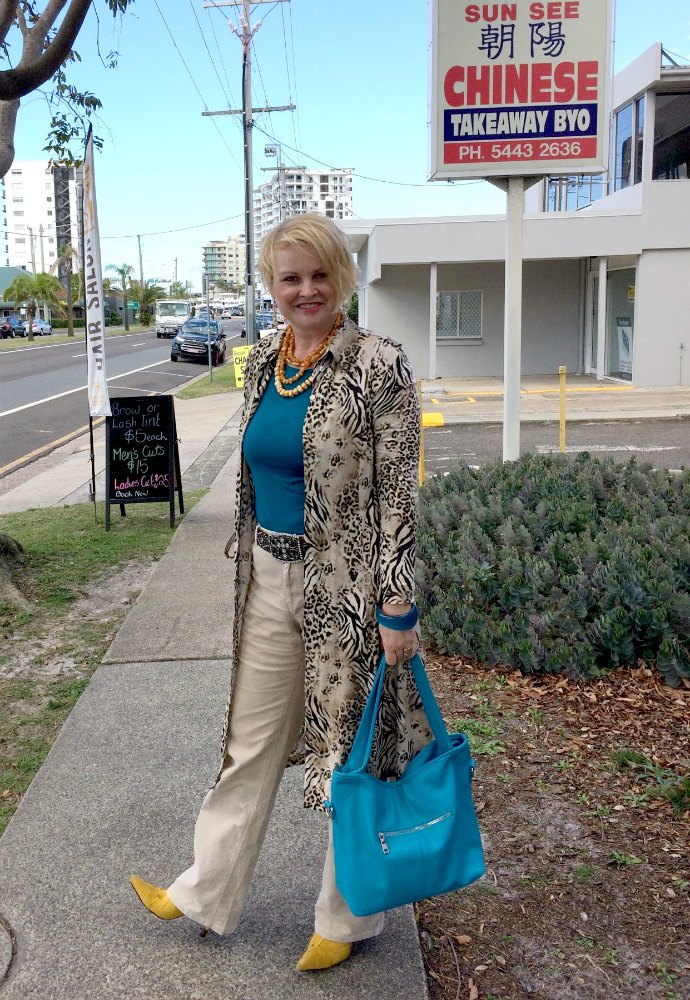 4. What Fabrics Do You Love to Wear?
Think about your favourite garments again that make you feel like the most fabulous you and identify with as an expression of you – what are they made from?
The leather jacket?
The floaty silk duster?
The denim jeans or jacket?
Your favourite fabrics can also give you clues about your signature style.
5. What Accessories Do You Love
An accessory may become your signature style expression – it could be like my friend Bron who wears hats everywhere as they are a signature for her.
I love a statement necklace or cluster of brooches and all sorts of jewellery, so this has become a signature staple for me.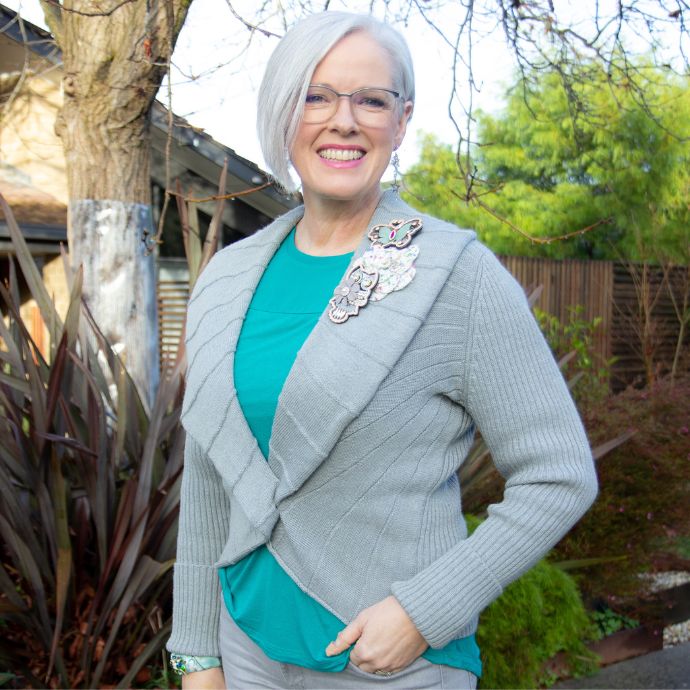 What kinds of jewellery do you always wear? Or do you wear certain kinds of jewellery or accessories in particular ways all the time?
Jewellery
Scarves
Shoes
Belts
Hats
Any of these could form part of your signature style.
6. What do You Get Complimented On?
Do you find some outfits garner more compliments than others? It's worth noticing what they are and seeing what it is about them that works so well as maybe this is how you'll discover your signature style.
Can you repeat what it is in those outfits that you get complimented on in new outfits? There may be a way you've put the outfit together, how you've accessorised or something about the style that really works for you that you want to hone and put on repeat.
7. Hair, Makeup and Grooming
This could be where your signature lies, like Anna Wintour's sensible bob hairstyle, or my own asymmetrical bob (I was recognised in the shops during the height of the pandemic mask-wearing era from my hairstyle by a lovely reader), or Cruella de Ville's white streak in black hair. Are you a red lipstick wearer, or maybe you have a fantastic mane of long curly hair. Maybe there is something in your grooming that forms part of your signature style?
8. What Makes You Different
It's what makes you different and unique that should be celebrated as part of your signature style. Celebrate your differences rather than trying to hide them. Your differences make you identifiable and memorable and have to be part of your signature style!
Benefits of Finding Your Signature Style
The benefits of finding your signature style are myriad.
Shopping becomes easier – either something fits into your signature or it doesn't
It's easy to create a style recipe around your signature style
You become much more aware of what is you and what isn't
If your signature style relates to a certain look, style, silhouette or shape of clothing, then when fashion trends come along that are the opposite, you know you can avoid them
You feel more comfortable and confident in what you're wearing as it's authentic to you!

Wardrobe Full of Clothes and Nothing to Wear?
Want more assistance to define your style? You're invited to my free masterclass – Why You Have a Wardrobe Full of Clothes and Nothing to Wear – where I'm sharing 4 common style mistakes so that you can start down a better path with your style. Register here now!
More Tips on Finding Your Style