The choice of scarf comes down to personal preference. A scarf might conceal or draw attention away from body parts that you don't particularly like. If you have a pear shape and want to add more balance to your ensemble, for instance, you can wear a vibrant scarf to attract attention up to your face and away from your hips.
A scarf is a great way to inject some colour and personality into an outfit with the use of patterns and decorations such as pom poms, fringe or tassels. Personally, I like longer rectangle scarves because there are more ways to tie them.
Common shapes of scarves
The most popular and adaptable scarf is the rectangular one. It is made up of a single rectangle-shaped piece of fabric that is plain and basic in shape. How much fabric is in the rectangular scarf will impact how you can wear it and the different knots you can try.
Here is an example of a short rectangular scarf above, and then a longer and wider rectangular scarf, both tied in exactly the same way – the effect is different.
If you're petite, you may want a narrower and less voluminous one otherwise it can easily swamp your frame. More petite scarf tips here.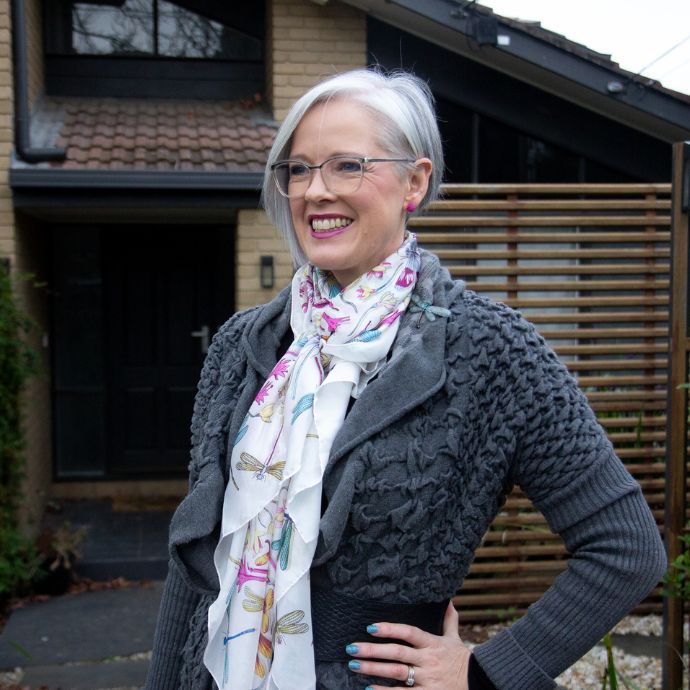 I've also worn this scarf as a cowl neck top – check it out here.
Square scarves are probably less versatile though there are still a bunch of different knots you can try – just search on YouTube to see what I mean They have a simple square design that may be rolled into a smaller version or folded into a triangle. People often like wearing it differently than usual, for instance like a hair accessory or tied to a purse to add a bit of flair to your handbag. Square-shaped scarves often come in silkier fabrics and can be small in size, like pocket squares, to very large ones. Here is a video with different ideas on how to tie them.
An infinity scarf has no beginning or end because it is made up of a single circle. They are limited to styling in a few ways but they are very practical as they are easy to wear and you never have to worry about them falling off or sliding around. They are what I call "throw and go" scarves. You throw them on, loop them once, and go.
Blanket scarves are large wool blanket styles that are worn as oversized scarves, ponchos or wraps. As the name suggests, they are pretty large and maybe even look like you're wearing a blanket.
Because of it's size, a blanket scarf can be draped around your shoulders quite comfortably as a shawl. You can tie the ends in the front if you wish, let them hang down, or hold them to keep warm. Blanket scarves can easily be worn as an enormous kerchief due to their square design. Simply take the scarf's two opposite corners and bring them around to the front by crossing them behind your neck. Simply tuck the tails beneath the triangle.
Here are some ideas on how to wear blanket scarves
Fabrics
Another consideration of choosing the best scarf is its fabric. The fabric affects how the scarf will drape and fold as well as how warm it will feel on your skin. Fabrics like silk, rayon, cotton and cashmere will feel more pleasant on your skin and drape with volume. Cotton or knit scarves appear and feel more relaxed.
A silk or satin scarf (like the one I'm wearing below) always looks more dressy than cotton or wool scarves.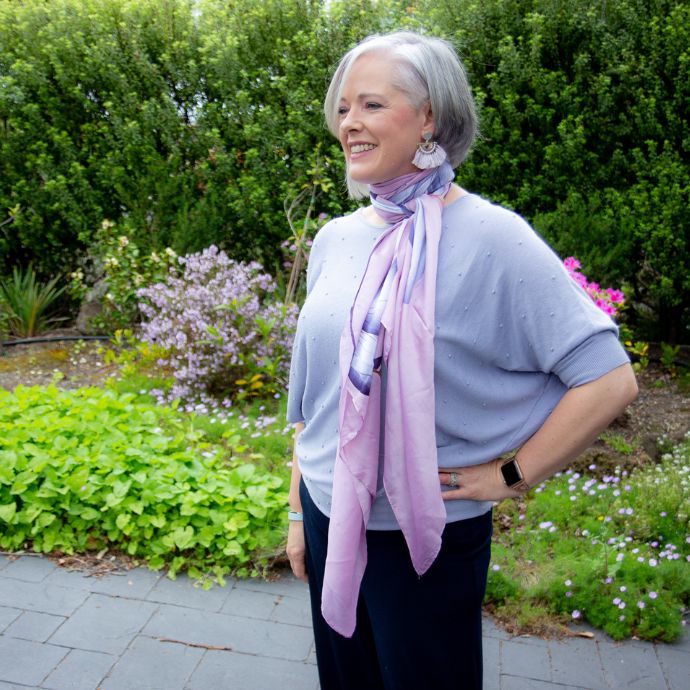 If it's a fabric that has some bulk then you may find some shapes have too much fabric and it is difficult to keep in position and drowns you in fabric.
Prints and Patterns
Scarves are a great way to add in some additional colour or a print or pattern into your outfit, and even to use them to mix prints in your outfit for a more creative look. Here are some tips on how you can mix patterned tops with scarves.
Body shape
The ideal way to wear a scarf to flatter your body type is to balance out your proportions by adding curves where needed and creating vertical lines to length other areas.
For the I-Shape, bulky scarves worn at the neck can add volume to your figure and create the illusion of a fuller bust or hips. Avoid wearing scarves that are too long and past the hips. Doing so will elongate the body creating a more boyish figure.
Scarves worn long and narrow will be flattering for H shapes, V shapes and O shapes. They should avoid wearing bulky scarves around the neck as this will make you look more top-heavy.
A-shape ladies should wear scarves around their neck and shoulder to draw attention upwards and to add volume to this area. Alternatively, highlight the waist by cinching it in with a scarf as a belt
X-shapes and 8-shape can also easily wear a scarf as a belt, or tie a scarf at the neck to draw attention up to the face.
Here are More Ways You Can Tie Scarves