What are the keys to creating flattering outfits for the O body shape (often described as the Apple shape or Oval Shape)?
The O shape can have similar width shoulders and hips or their shoulders may be narrower than their hips, but they have a rounded waistline curving outwards both at the front and sides. If you want all the details grab your Body Shape Bible here.
Their tummy is the body part they most want to camouflage and they often (though not always) have slim legs that they can highlight.
So when putting outfits together, you want to think about these key points:
1. Keep Your Waist Free of Details
You want to avoid belts – the whole "put a belt on to create a waist" will not work for your shape, all it will do is highlight your lack of waist. Instead of waisted shapes, you rock the longer tunic top and fabrics that are looser and flow smoothly over your curves.
So no dresses with belts, no coats with belts, and definitely no tucking in your tops!
You want all your tops and dresses to skim past your waist rather than being drawn into it.
2. Use Vertical Lines to Elongate Your Torso
Look for long vertical details in garments that will slim your torso, adding a long line open cardigan or jacket is an easy flattering option for you.
Avoid cropped jackets as they draw unflattering horizontals around your waist. Be careful of any pocket details on jackets and cardigans that sit anywhere near your waist too (they add both details, and horizontal lines just where you don't want them.
Curved hems that are higher at the side and dip down at the front are always a flattering option to hide your tummy while making your legs look longer.
A column of colour is your best sartorial friend as it's the most elongating silhouette.
3. Draw Attention Up With Detail
Draw attention up to your upper body with interest and detail. You can use colours, patterns, and accessories to do this. It's always flattering to add some sort of focal point to your portrait area to distract from everything below.
Keep necklines more open if you have a larger bust, otherwise, you will look even more unbalanced.
Outfit Ideas for the O Shape Body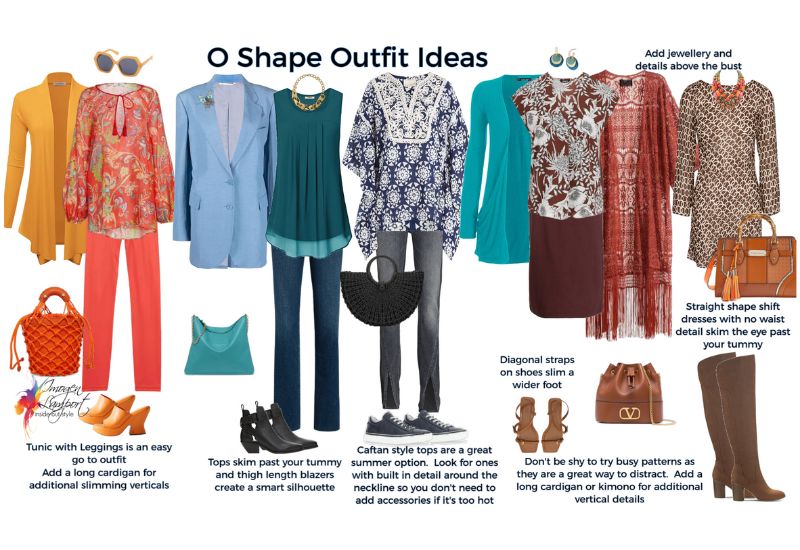 With these simple guidelines in mind, you can play in your wardrobe and create stylish and flattering outfits.
Here are 5 outfit ideas for the O shape body
A longer tunic cop with a slim jeans or legging is always an easy option, particularly if you have great legs. Layer a longer line cardigan over the top if you need warmth, the vertical opening will create slimming verticals through your torso.
Curved hems on tops always are more flattering than straight ones, as they cover your tummy whilst giving you the illusion of longer legs. Add a longer thigh-length blazer over the top for a smart look.
Caftan-style tops are always an easy option. Look for ones with built-in details around the neckline if you don't like adding in accessories.
Think straight skirts rather than fit and flare to not add extra width to your body. Don't be afraid of busy patterns as they can provide a fantastic distraction so the eye doesn't stop and rest. You can always add that longer third piece, different weights and styles for different seasons.
Dresses are an option, think straight styles with no waist shaping in a fabric that skims over your curves for comfort and harmony with your body. Curvy patterns (rather than stripes or checks) will always be more flattering on your curvy body shape.
Remember, you are more than just your body shape
Body shape is just one small part of what you need to know to decide what to wear. You also need to consider body proportions and body variations and you can then create your own figure flattery guidelines.
Discover Your Shape
Not sure of your body shape? Take my free body shape calculator quiz – instructions and quiz here. If you'd like my professional opinion on your shape, you can get it as part of my 7 Steps to Style System – which walks you through everything you need to know about flattering your figure, your colouring and understanding how to express your personality through your clothes and outfits as well. It's the full image program that will assist you in defining your style so that you can build a wardrobe full of clothes that you love to wear.
Further O Body Shape Reading
How Your Body Shape May Change with Age and Weight Gain or Loss