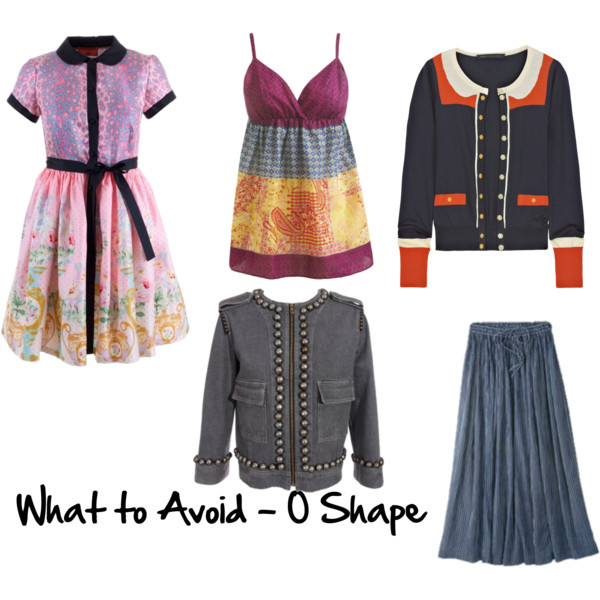 Most O shapes that I've met tend to feel self-conscious about their stomach area, so here are some tips of what not to take into the dressing room if you are an O Shape.
6 Styles of Clothes or Clothing Details to Avoid if You are an O or Apple body shape
Dresses or tops with belting at the waist. Adding a horizontal line with a belt will just make your waist look wider and highlight attention on it.
Baby doll (empire) style tops with spaghetti straps (you need a wider strap) and with gathering under the bust (it will make people ask when your baby is due). You can wear empire tops, but they need to be smooth and not gathered. Fine straps are a too small scale for your body shape. You need thicker and more robust straps on tops.
Cardigans and jumpers (sweaters) with banding at the waist, and other horizontal details at the waist. Be very wary of garments with any horizontal details through the torso.
Clothes made from stiff fabrics, such as stiffer denim.
Avoid any sort of patch pockets anywhere on your body. Look for pockets that are built into seams and not obvious. Remember my 3 rules of horizontal lines!
Paperbag waist skirts or pants, and gathered waists on skirts and pants, also pleated waist pants. Curved lines add volume, so any sort of gathered waist is adding extra volume and bulk to your tummy.
What do you O shapes avoid when shopping?
Is that Stripe Slimming or Widening? Discover the Rules of Stripes