I love your statement necklaces. I'd love to know the different places where you find most of them. Do you have a low end starting price in order to find the quality you want?
Handmade Markets, Amazon, Ebay, Boutiques
I find them from everywhere. I look far and wide. I find them at clothing stores, boutiques, markets, Amazon and eBay just for starters! Etsy has a variety of vintage and handmade pieces that are beautiful and exquisite. If I'm in a store and they've got necklaces, I always have a peek. You can also check out thrift stores, consignments stores, antique shops and estate sales.
I'm always looking for something interesting when I travel too, and have picked up some gorgeous handmade pieces on my trips to Thailand (including the one by Witaya in the photo below, I picked mine up at Witaya's stall at the Chatuchak Weekend Market in Bangkok).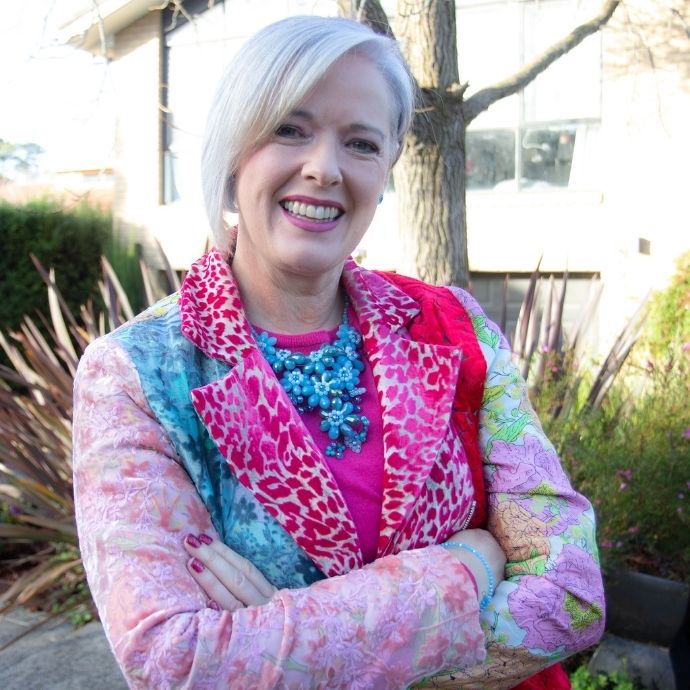 I don't have too much expensive jewellery because I like to wear different things all the time. I tend to buy for fun and I'm not upset if I get bored of them or they break. Personally, I tend to avoid buying plastic as I think plastic always looks cheap. There are also some cheap metals that eventually discolour that I also avoid. But there are lots of great places to find unique, interesting and lower-cost accessories to suit your mood and outfit – check out my tips here.
Finding items online
When buying online, I look at the photos quite closely and I look at the measurements so I can get an understanding of the size. You can't try necklaces on before you purchase them so make sure you check the length with your neck size to get a good fit. I also read all the customer reviews and check the returns policy. An ideal deal is when the store gives you a refund or exchange it for whatever reason you aren't satisfied with the item.
Altering necklaces
I've also had necklaces where I've painted with nail polish to change the colour. This is a great idea especially in multi-coloured pieces where one or two elements aren't right. I tend to buy in the right colours but I've got pieces from before I changed from dark to light hair are just too dark and high contrast for me so I've used nail polish over them to tone down the contrast on them. You can check my blog post how to revamp your jewellery for more ideas….
Sometimes I'll buy a necklace from a discount retailer because I've liked some of the beads rather than the overall style of the piece and I'll remake it into something else. You can also buy beads at craft and haberdashery stores to create your own piece. I was interviewed by Carol who is a member of my 7 Steps to Style program and runs a business providing jewellery supplies and has tips and tricks on her YouTube channel on making jewellery. We discuss how to choose jewellery that suits you. If you are interested, I've shared the interview here as well as links to my many articles on choosing the perfect necklace for you.
Necklaces for your personality
My statement necklaces reflect my colouring and my personality style. So when you are searching for a necklace, consider your personality style. If you are more feminine, you may prefer a delicate necklace or a sparkly necklace. Organic shapes such as stones, wood and coral are perfect for someone with a relaxed and casual personality style. If you're dramatic, you may find that you like your necklaces oversized and bold pieces made by artists or even from unusual or recycled materials will appeal to someone with a creative dressing style. If you aren't sure of your personality dressing style, you can check out my quiz…
Related Reading