For the past 10 years I've been using a focus "word of the year" instead of new years resolutions as I've found it a better way to help me stay on track and to keep moving towards my life and business goals. So with 2021 nearing its end I knew it was time to find my new focus word for 2022. Here's a list of words that may inspire you to find a focus word for 2022!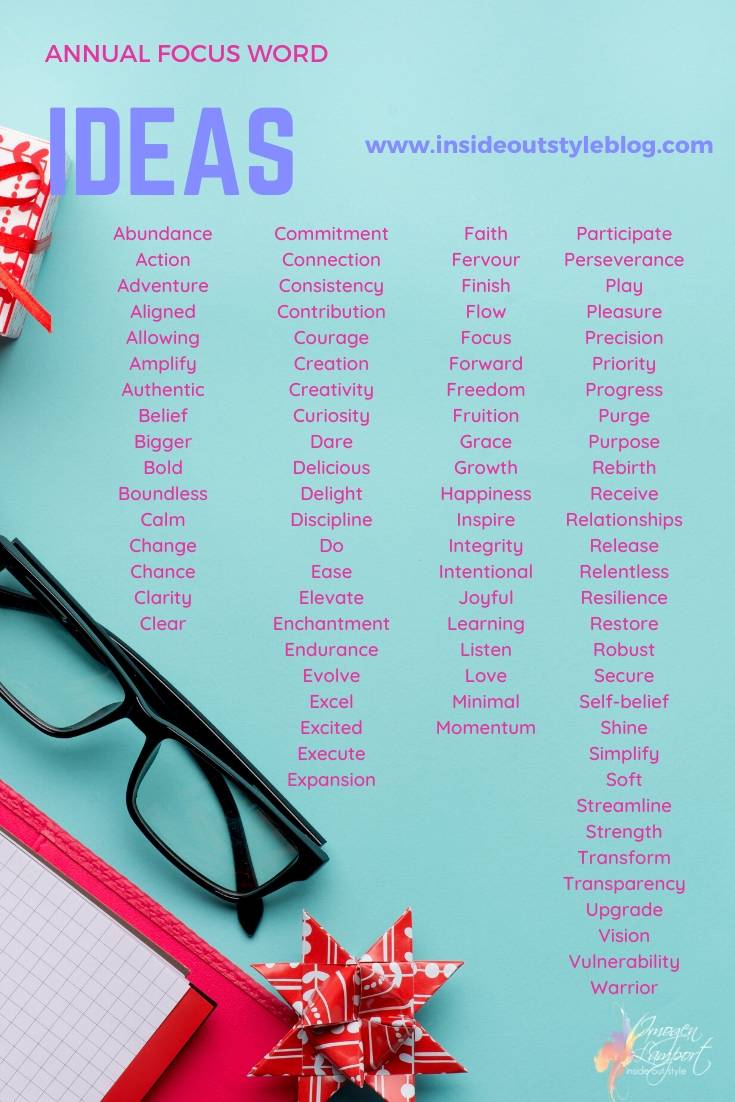 Back in 2012 I decided to experiment with a focus word of the year – and I decided that it would be CONSOLIDATION as I'd done a lot of creating and growing in the previous few years (having split up from my ex-husband and getting divorced), I just needed some time to consolidate, to get all my ducks back into a row and to start planning more for my future.
In 2013 I was determined to get more BALANCE into my life as my work/life balance had gotten completely out of control. I was working all the time and had very little personal life, luckily I'd met my future husband Adam in 2012 so working on that balance was important to me.
Then after having that balanced year I decided I was ready for some EXPANSION in 2014 – and this was the year I created Evolve Your Style and my 7 Steps to Style program really took off. This expanded my world so much! I've met so many amazing women from around the world through these programs and their style journeys' have helped me become a much better image consultant.
In 2015 – my word of the year was NURTURE – as I'd just gotten married and wanted to make sure I nurtured my personal and business relationships.
Then in 2016 – I decided that it was time to DELEGATE, something I'd always been terrible at, but having found the wonderful Kate who has been my tech sidekick now since 2016 I've learned loads about how to do this and it's completely changed my life. In fact, without Kate and learning to delegate, I don't think the blog would still be here. That year everything technical started to fall over and if it had just been me, I'd have given up as it was all beyond my skills and not in my zone of genius to fix. Fortunately for me, it was in hers and I now have more amazing and talented people on my team, to help both Kate and myself keep this baby afloat! I now delegate happily anything that is not in my wheelhouse.
The word for 2017 – was GRATITUDE as a reminder of what is good in my life and to appreciate all the small things. I've always been bad at stopping to appreciate the good and what I've achieved (and I've achieved a lot when I look back on my journey) and I try and maintain that gratitude to this day.
When I read Brene Brown's book Braving the Wilderness just before the start of 2018 it really spoke to me and so I made BRAVING my word for that year. It was a reminder to be in integrity with myself and to be more of me (which can feel very hard if you are like me and you can often want to hide away and never show your vulnerabilities – something that I still struggle with).
So in 2019, I decided that IMPROVING would be my focus word to help me keep on making things better as constant improvement and personal growth are both high core needs and values for me.
Then in 2020, I decided to get out of my comfort zone and be more public and to SHINE. Even though it scared me, I decided to start doing regular Facebook Live videos which given that 2020 was the first year of Covid and lockdown living, was a great decision and helped to ensure that I didn't resort to pajama dressing every day and I received many emails from wonderful readers who told me that my short live videos really helped them during these dark and uncertain times too, something they looked forward to watching.
When 2021 rolled around I decided that I wanted to feel more ALIGNED, to ensure that the time and effort I put into my work and life was congruent with who I am and what I really wanted to do. To be more intentional and real. To make sure every decision was aligned with my goals and vision. It's been a year of some personal growth as I've started to try and step out even more into a more aligned and authentic version of myself.
So when I was considering what I wanted to focus on for 2022, and what's becoming more important, I decided that the work I've been doing these past 6 months or so helping others to really shine in their authentic ways has made me decide that I want to keep on improving and also be a catalyst, to open doors, to show the way and shine the light and be the holder of the light for others – like a beacon that is tall, steady and immovable but lights the way and so I decided that my word for 2022 is ELEVATE.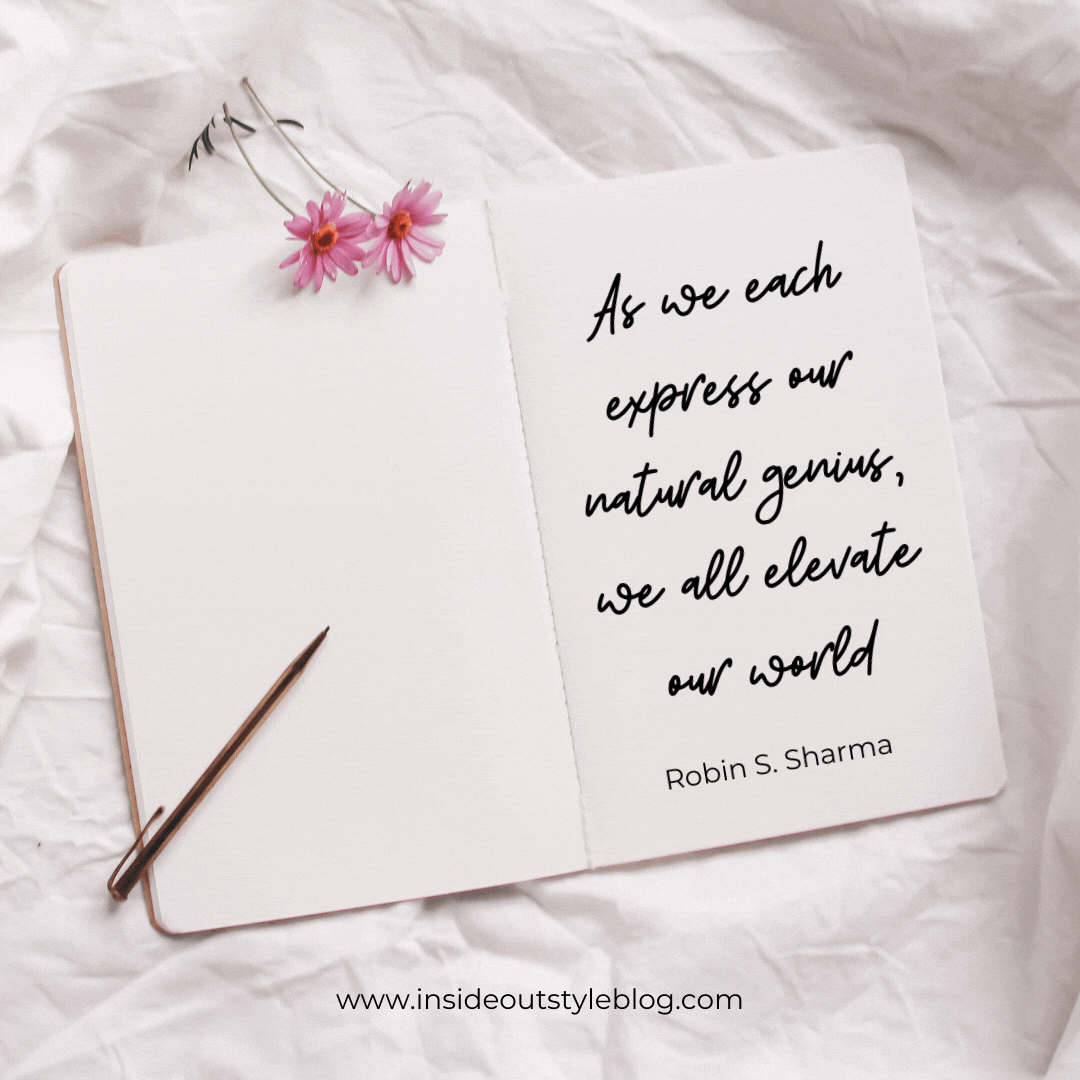 I want to …
Elevate my clients – their lives through their wardrobes as they express the best and most authentic version of themselves
Elevate my health – yes those Covid kilos have to go and I've also restarted my exercise regime again to keep my brain oxygenated and my heart pumping
Elevate my team – to give them the security they desire but also the challenges they need in their work to feel valued and energised
Elevate my relationships – because relationships take work and it's too easy to let friendships slide and not appreciate the ones you love enough
Elevate my work – to improve what I have and make it even better, the programs both for clients and also my training programs for image and colour consultants, the tools I create and to also become more visible rather than hiding (which is my natural inclination)
Elevate my standards – to accept that I'm already good enough and to stop the thought "who am I to think that I can …. (fill in that blank) that holds me back
Every year my word of the year scares me but I know that it helps to keep me growing and pushing me out of my comfort zone (and expanding that comfort zone too in the process). As I know that growth is a part of living and it's like the butterfly that has to push its way out of the chrysalis to spread its wings and fly. Staying inside that comfort zone doesn't do you any favours and you can be uncomfortable inside your comfort zone too, so why not step out of that comfort zone because you're going to be uncomfortable anyway and how much more can you achieve if you take that step outside it?
Have you chosen a focus word for 2022? I'd love to know what it is and what it means to you, please share in the comments!