Do you buy clothes only to return them?
Do you buy clothes thinking that if they don't work you will return them, but never get around to it?
How much money and time is this costing you?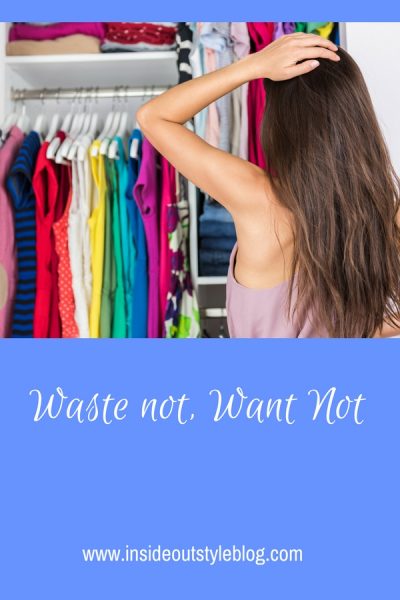 In my work as an image consultant I see heaps of waste, whether it be waste of money on clothing that doesn't suit (for many reasons), waste of time having to take back an item that doesn't work, and also lots of stuff that was bad decisions that will end up as waste in landfill. It saddens me to see all this waste, when a few easy steps could have been taken a little earlier to prevent it.
Try on the clothes in the shop before you take them home. I can't tell you how many times I've been tempted to not try on, say a t-shirt, which when I look at it looks like it will fit perfectly, and as I'm in a rush I think, I won't bother trying it on, but fortunately that little voice in the back of my head says "Imogen, get thee to the change room" and I follow it there and discover that there is something wrong in the cut of the garment for me. Phew, I leave that garment behind, rather than spend my hard earned money on it, then have to spend more of my precious time returning it at a later date (if the store will even let me).
When you get the garment home that you have tried on in the store, before you take off the tags, try it on again with a few other clothes you have in your wardrobe to make sure it works in with your existing clothes. If it doesn't, the store had a 'skinny mirror' or it just doesn't feel right now you've got it home, then take it back straight away. The longer that garment is in your possession, the more likely that it will become a mistake that takes up expensive real estate in your wardrobe, and you'll never get round to taking it back.
If you bought it knowing that it needs an alteration or two, take it to the alterations person either on the way home, or as soon as possible now that you've got it home. Don't let it languish, if you realise that it was a mistake, take it back now. Stores are not interested in old stock, once that garment has gone onto the sales rack you may either not be able to take it back, or only get store credit (and maybe there is nothing else in that store that appeals to you, unfortunately store credit doesn't pay the rent or buy you food).
Don't buy clothes because they are on sale, always ask yourself 'would I buy this full price?' If at it's full price you can see that it's not something you'd normally wear, then you won't wear it when it's on sale either. Put it back and save those pennies for a great garment that will work for you.
Never shop because you're tired, emotional or when you're hungry and just can't think straight. Bad decisions will be made. Make sure you're fed and watered before hitting the shops so all your mental faculties are firing, so good decisions are made
Understand who you are, what suits your body shape, body proportions, personality style, colouring. The more you know about who you are as a person, what your style is, and what makes you look smokin' the better your choices will be. In the end this will save you lots of money as you eliminate those bad choices
Remember, your time is worth money (you can figure out your hourly rate, if you don't already know it, based on what you are paid at work). Do you really want to throw away half an hour or work, half a day of work or half a week of work on a garment that doesn't flatter you? Have you ever figured out the real cost of all the clothes you're bought that just don't work for you? If you need hep with any of the above, then you should check out my 7 Steps to Style program – discover your style to make shopping a breeze and never waste your money or time when shopping again!