There are always new fashion trends appearing in store. So I've rounded up a variety here and will share with you what to consider if you're looking at including this trend in your wardrobe and how to do it to best flatter you. I'll start with some of the easier trends to wear and then give you tips on selecting the best version, for you, of the trends that are a little tricker to pull off without some additional knowledge and thought.
1. Waistcoats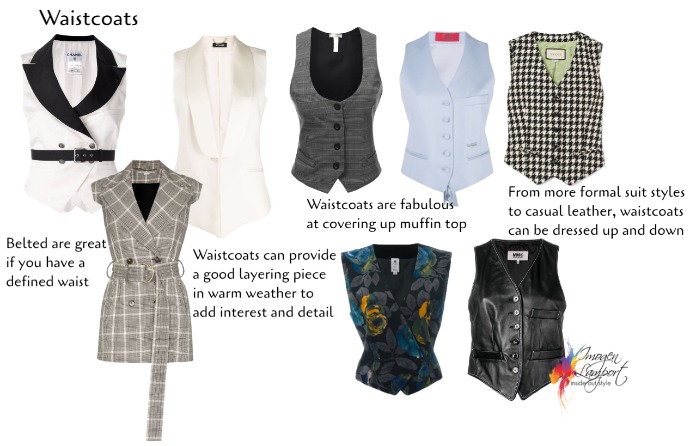 One of the easiest trends to wear is the waistcoat. There is a version to suit every body shape and they can help to hide a multitude of sins. What's not to love? They can be totally work appropriate – think suit style – or totally casual – think leather or faux fur.
If you have a defined waist, choose a belted style or one that is shaped to highlight your waist.
If you have a less defined waist, choose something that skims past your waist without additional waist detail (such as pocket flaps or alternate piping colour on the pocket welts). Check this post about where to end tops for figure flattery.
Be aware of the length, for many women ending a waistcoat around the hip bone (high hip) area is a proportionally flattering length. Only opt for a longer style if you have long legs to balance it.
This trend works well with the suit trend that is also appearing!
2. Crochet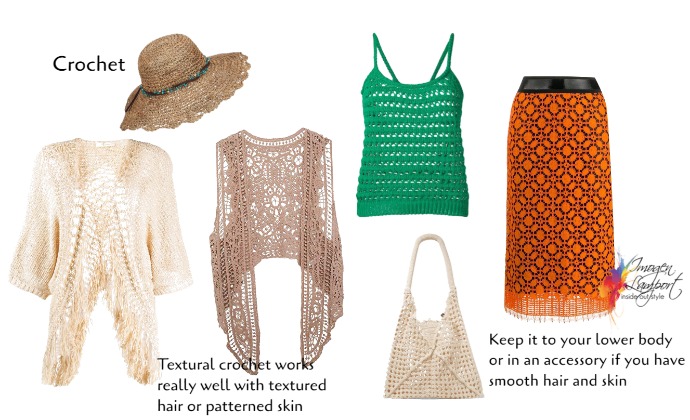 Handicrafts have been coming back into style both in the home (think macrame) as well as in fashion. Crochet is having a revival and you can enjoy this textural element in your outfits should you so wish.
When choosing a highly textured fabric such as crochet, this works when you have more textural elements in your hair and skin. They harmonise beautifully.
Now if you are more smooth than textured, go with a smoother version (such as the orange skirt on the right) or use it in your accessories. Wearing it on your lower body is also another way to make it work for you.
3. Spring into Florals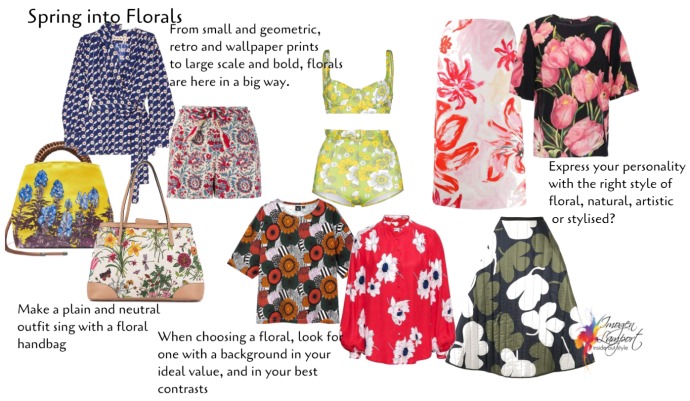 Floral prints are always around and they do tend to morph in style from year to year. What I'm seeing is that there is a great variety of floral prints from retro to geometric, to wallpaper inspired. Choose the florals that speak to you – some you may love – others will not appeal.
Think about the scale of the floral too, remember to keep it in balance with your own body scale (if you're not sure what yours is, this is something you can discover in my online image consultation program 7 Steps to Style).
Remember the more dense the print the more slimming it is. The large the negative space, the more it will draw the eye and make you appear larger.
Read 7 things you must consider when choosing a flattering floral print for you.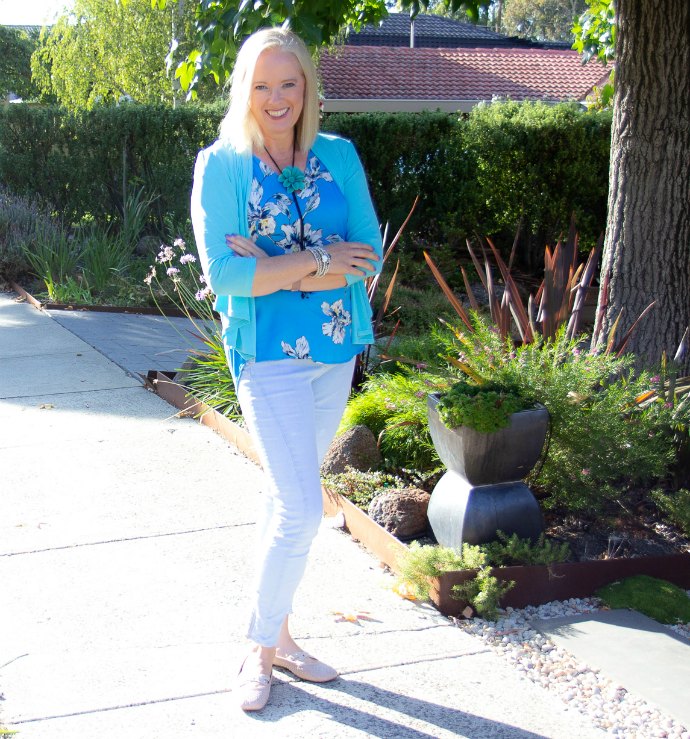 4. 70s Collars and Feature Lapels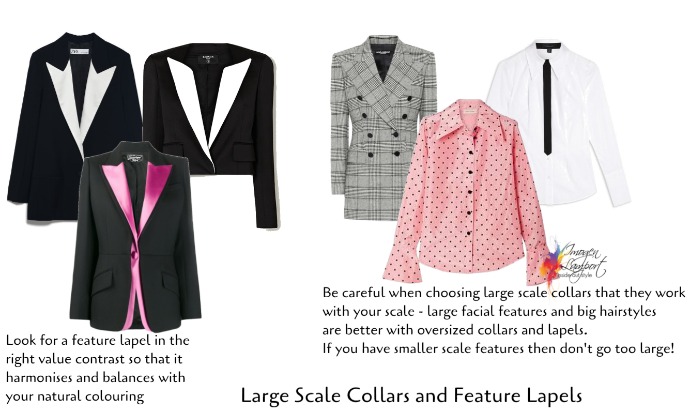 The 70s are really back in fashion – the crochet, the retro prints and also the disco collars on shirts and jackets – that is the large longer pointed collars!
The larger the collar the smaller your head will appear – so make sure to get the balance right (sure fashion is fashion – but if you want a garment to last and look great on you – think about the artistic principles of design that create harmony and beauty at the same time).
If you've got more voluminous hair or larger scale facial features, you'll be able to pull off the 70s collars more easily. Otherwise, go for a more modified version of this trend.
And then there are the feature lapels on jackets – consider your value contrast when choosing one of these to wear so that you are the feature, rather than everyone just looking at your chest as the lapel is the hero.
5. Polka Dots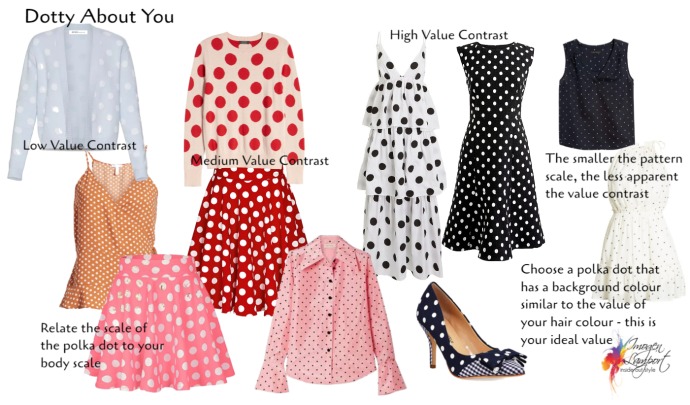 One of the other big print trends for spring and summer is the polka dot. When choosing your spotty outfit, there are a few things to consider.
The scale of the polka dot – match that to your facial features and also overall body scale – so if you're petite, avoid anything too large!
Of course, if your personality is dramatic, you can upscale your print, particularly on the lower half of your body.
The value contrast of the polka dot – again choose a polka dot with a value contrast that matches your own. Though the smaller the dot, the easier it is to wear a value contrast higher than you ideally should be choosing.
The background colour should be in your ideal value – that is the same lightness or darkness as your hair!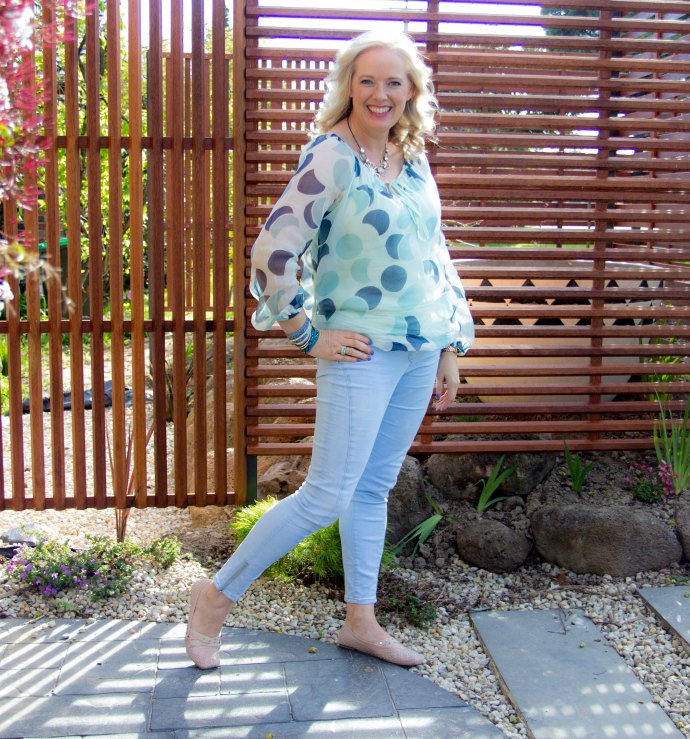 6. Frills and Tiers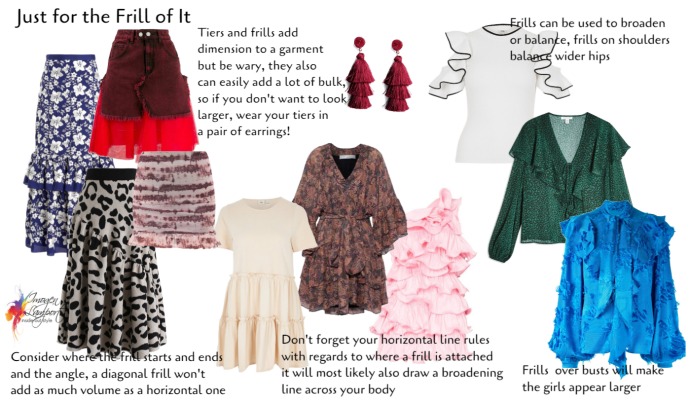 Now we're getting to the trickier trends of the season. Frills and tiers create curves – great if you want to add more to your body, but a little tricky if you're not wanting to add any extra volume to your body.
You need to remember the horizontal line rules – and that means when a frill or tier is sewn onto a garment, if it's sewn on horizontally, it will not only add a horizontal line where it's attached but also at the point it ends. Thus your garment becomes more widening. Ensure that you don't have a tier start on a wide point of your body that you don't want to add more width to.
If the frill is attached diagonally, this can be a more flattering option (as it avoids additional horizontal lines) but do remember that the frill adds curves, and as my North American colleagues like to say "round adds pounds".
So be wary of bust frills if you have a larger bust, hip frills if you have wider hips and waist frills if you don't have a small defined waist.
Of course, you can use this to your advantage – by selecting a garment with frills that broaden and balance such as a shoulder frill to balance broader hips and thighs.
7. High-Vis Fluro Colours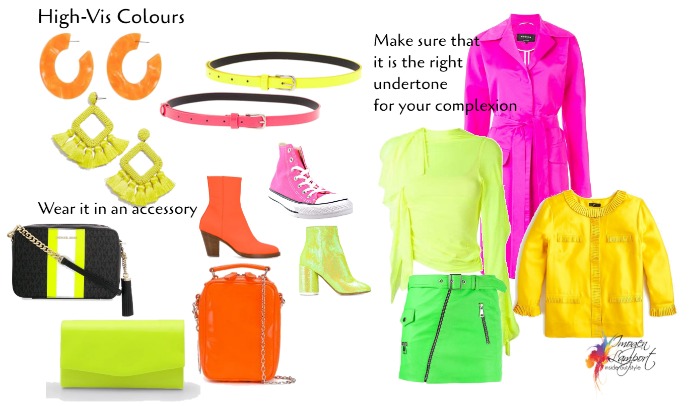 High-Vis highlighter pen colours are back again. These are tricky to wear as humans just don't have the clarity and brightness naturally that they require. So how to wear these colours without them wearing you?
Wear them in accessories – this is the easiest way – a pop here or there – a belt, shoe, handbag or earring will not overwhelm.
Wear them under something more neutral to make the garment less obvious and take away some of the impact.
Ensure that the undertone of the colour works with your palette – High-vis orange on a cool person just makes them look seriously jaundiced! If you don't know your ideal colours, you get a colour analysis as part of my 7 Steps to Style program too!
_______________
So there you have it – some of the fashion trends you're likely to see coming into stores this year, and how to ensure that you choose the best version of each (or any) of the trends to flatter your colouring and your figure so you look fabulously fashionable rather than a fashion victim!
Which trends speak to you and are you planning to add to your wardrobe this spring?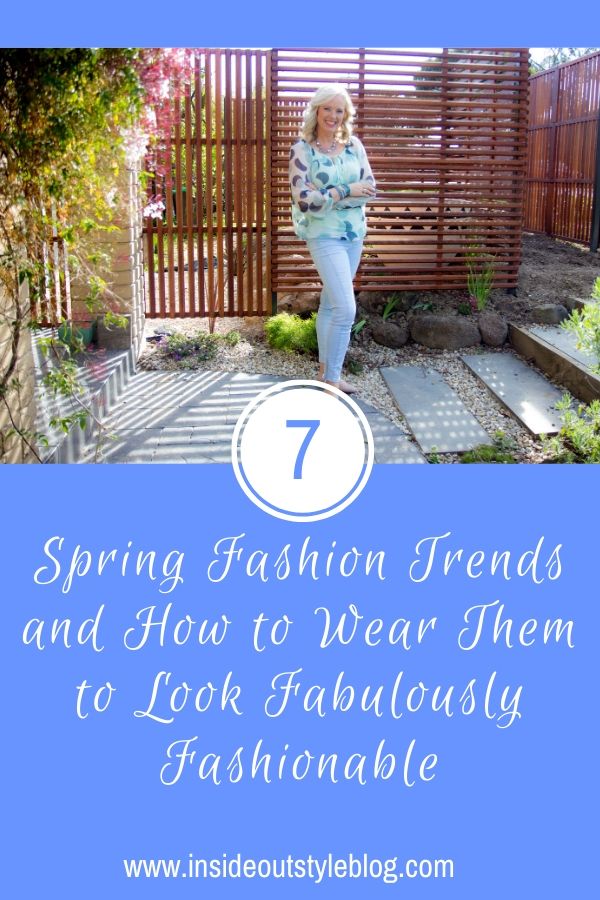 Linking Up to:Not Dressed as Lamb, Style with a Smile, Thursday Fashion Files, Ageless Style, Visible Monday
The Aesthetics of Beauty and Style and How They Relate to Fashion