Bit tired of your wardrobe? Is it time for an update? Wish you could afford a whole new wardrobe but you can't? Then why not check out these tips on updating your wardrobe and you don't have to spend a fortune to do so with my tips on what to think about or look for to get you inspired for the next season.
1. Trend Colours
Add one of the current trend colours to your wardrobe – get my tips on the Pantone Colours for 2016 and see which will flatter you. Colour adds interest to your wardrobe, it really can make you look alive and vibrant. Add to your boring black a colour or two which not only will make you more memorable, but will also update your wardrobe.
2. Add anAccessory
Adding a fun new accessory to your wardrobe, something that is different from what you already own, can really help you update your outfits and add some currency to your look. There are so many great costume accessories you can play with and try that will add fun, and that oh-so-important focal point to your outfit.
Accessorize in a different way -If you always wear long necklaces then why not try a shorter one. Of if you never belt try a belt (in different widths to see what you like best). A hat? A scarf? A hair accessory? There are so many different accessories you can play with that will add interest and flair to your outfit.
3. Shop Somewhere New
We are all guilty of going to the same old places and shopping for clothes. Not that this is necessarily bad, but we are unlikely to see anything much different. Instead why not go into those stores you normally avoid (you never know, you may be pleasantly surprised), or go online and see what else is out there that you may never have considered. Expand your shopping horizons. If you shop at the mall why not frequent some boutiques. If you shop online, head out to the stores. If you shop new why not try thrifting?
4. Spring Clean Your Closet
Spend a little time cleaning out and organising your wardrobe. I've got tips to do this in my free ebook which you can download here if you haven't got it already. In so many wardrobes garments are tucked away at the back of a shelf or drawer, on a hanger under something else. These garments that are lurking and haven't been earning their keep. Why not put them to good use!
5. Get an Alteration
Sometimes a simple alteration is all you need to freshen up an existing favourite and make it more modern. From taking up a hem, to adding a dart to add more shaping. Or you could go more radical and change the neckline, add a decorative trim, change the shape of a garment (a-line to straight skirt for example) or change the buttons to update your outfit. There are so many ways a simple ways that an alteration can update your wardrobe (check out this great post by the sewing sisters). This skirt (below) was a-line, and I have taken it in to make it straighter.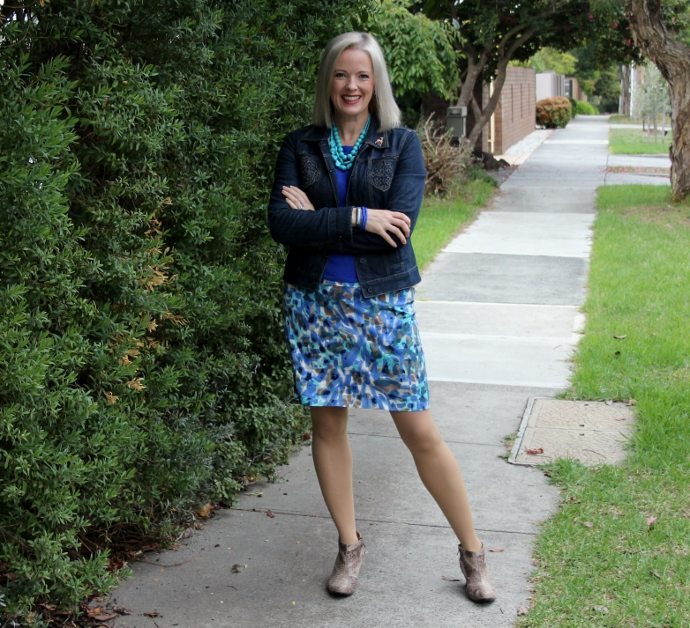 6. Consider Your Options
Any new garment you add to your wardrobe should be something that gives you more options. Before you buy, can you wear it with at least 3-5 other garments you already own? Is it versatile in that you can dress it up or down? Ask yourself these questions before you make any purchase as you want your new clothes to work hard for the money you spend on them. More ways to wear a garment will mean more possible outfit options which keeps you feeling like your wardrobe is fresh.
7. Host a Clothes or Accessories Swap
Got a few friends who are similar in size? Then why not host a clothes swap, and bring what you're bored with (or what just doesn't work) and see if you can find something new in their wardrobes. Don't forget that there is no reason to limit your swapping to just clothes – how about an accessories swap (if your friends are different sizes from you) that way – it's not about fitting into the garment!
8. Change the Colour
Are your clothes looking a bit tired and faded? Then why not over dye them to brighten up the colours again. This can be great to freshen up jeans that are fading.
Or if you don't like the colour of an item – they aren't flattering, then why not change the colour entirely into one that you will love and it will love you back? Get tips on dying from my resident dye expert Ms MakeitOver Bernadette here.
So there you have it – some quick and easy ways to update your wardrobe. Please share how you like to update your wardrobe!