One of the benefits of living in Australia is how close we are to South East Asia, and therefore masses of great Asian restaurants. Next time you're looking for somewhere to eat, check out one of these great Asian restaurants.
Jing Jai Thai – Melbourne
Thai food is one of those cuisines I absolutely love and recently I enjoyed a delicious banquet at Jing Jai Thai 271-273 Flinders Lane (near the corner of Degraves St) Melbourne.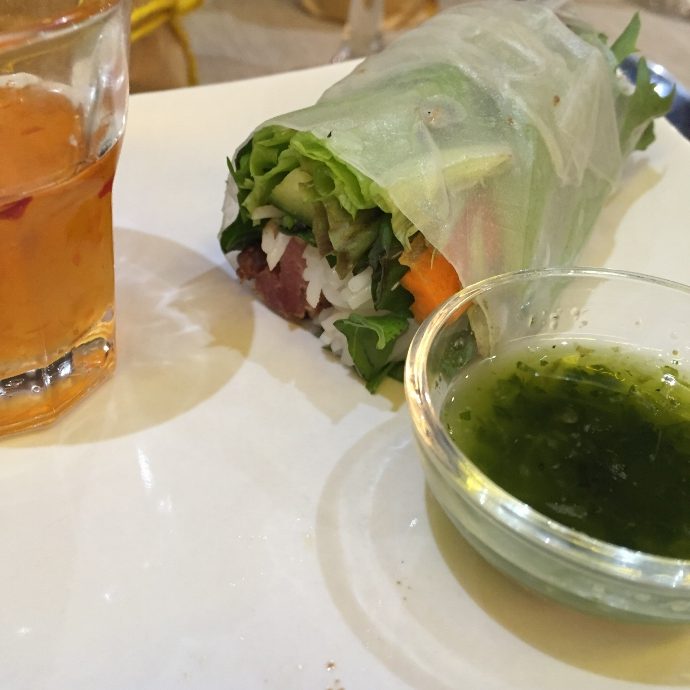 Unlike many Thai restaruants that are more westernised, Jing Jai has really authentic flavours and some unusual dishes that I've not experienced at other Thai Restaurants.
Along with regular Thai favourites like rice paper rolls (truly scruptious) and Massaman Curry with Rice Berries, one of my favourite dishes of the night was a Boat Noodle Soup – a cruncy, spicy delicous soup with hints of pork crackling, along with Thai basil and beansprouts. The An Chan Noodle with Grilled Chicken has an amazing purple colour from the Butterfly Pea Flower.
Jing Jai Thai offers delicious food at prices from $3.50 for a rice paper roll, with curry's in the range of $12-$22.
If you're in the city pop in for a lunchtime special or a delicious dinner.
Noom Duck -Port Melbourne
Noom Duck restaurant describes itself as seafood by the bay with an Asian Twist. And apart from the fact you can get a side of fries (not something we get at Asian restaurants in Australia normally, but these fries were super crispy and delicious), the food has South East Asian flavours.
We enjoyed a supper of the crispy fried half duck, ginger "nuoc cham", banana blossom, crispy shallot, fried chilli along with Pad Thai noodle, plus the crunchy Asian green stir-fried, mushroom, ginger oyster sauce (scrumptious).
The food is tasty with good portion sizes.
Prices start from $5 for a taste such as a mini brioche bun, and mains are in the $22-$36 range.
Noom Duck is located on the Waterfront at9 Waterfront Pl, Port Melbourne VIC 3207 and has fabulous views over Port Phillip Bay and is open for breakfast, lunch and dinner.
Both these Asian restaurants serve up fabulous Asian flavours which pack a punch and delight the senses.