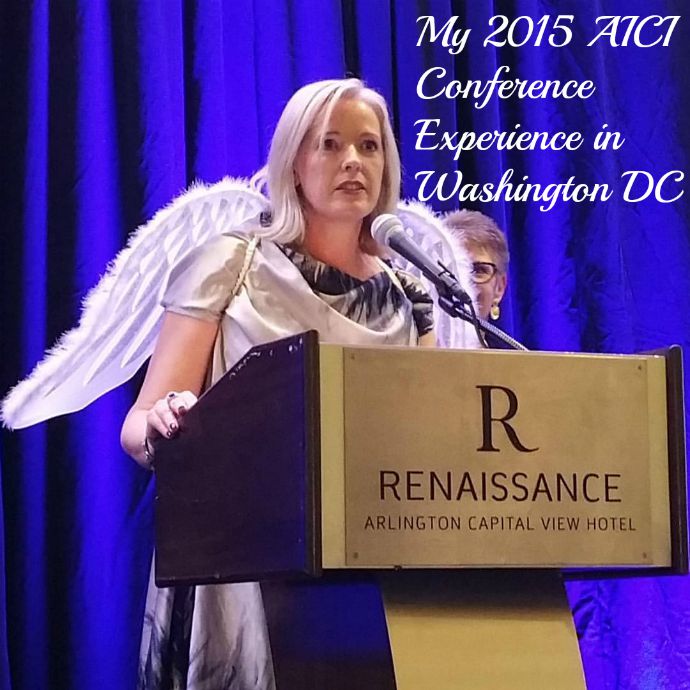 As you may be aware I recently spent a couple of weeks in the USA (more trip posts coming soon) and I've been asked to share some of my highlights of my professional association the AICI's Conference in Washington DC, which was the original purpose of my trip (I just like to add a little holiday onto the side, I mean when you're travelling across the world and spending 30 hours doing it, you may as well have a short break too!).
The conference started with a keynote presentation by psychologist Dr Jennifer Baumgartner (author of You Are What You Wear) who said "The wardrobe is the microcosm of the larger life" and what we wear and how we store what we own tells you what is going on internally within. I've found this to be true with my clients and Jennifer shared lots of relevant research that explains so much of why what we wear influences how we are perceived plus our own psychological reasons.
What you wear is so much more than just a covering for your skin.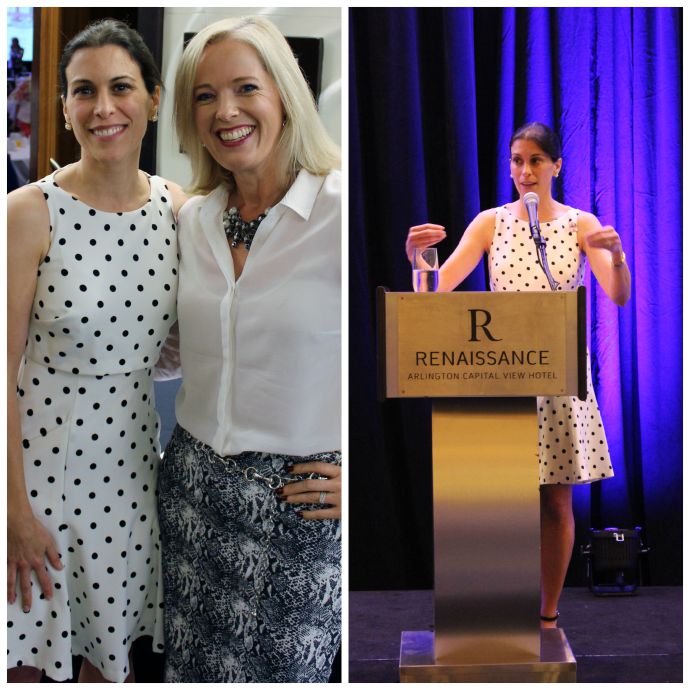 Did you know that depressed people wear baggy, or poorly fitting jeans more, yet if you want to feel better about yourself, all you have to do is wear a dress! Yes, the very act of wearing a dress can make you feel better about yourself.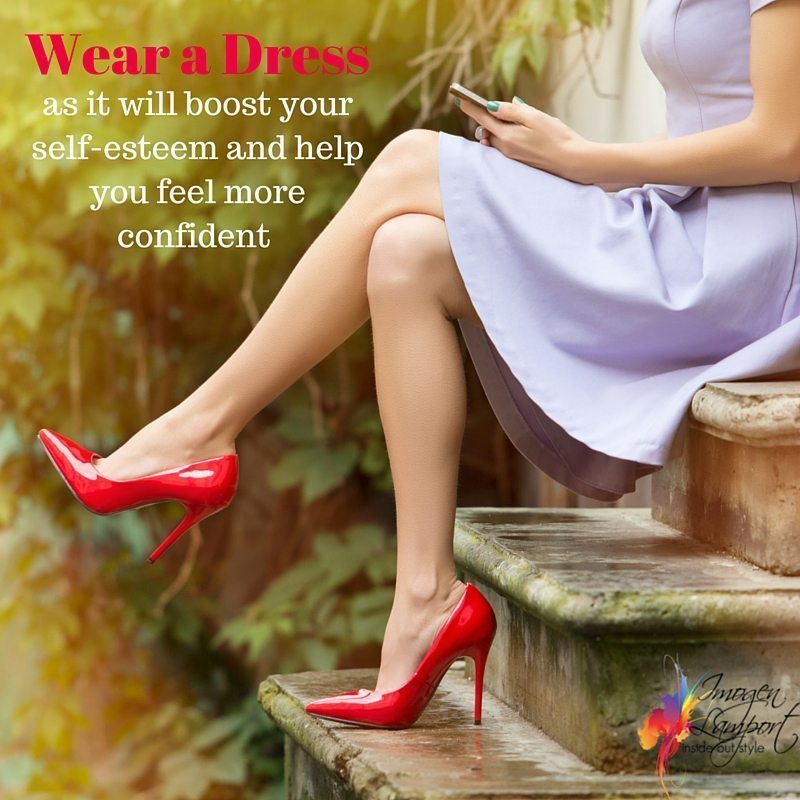 Our second inspiring keynote presentation was from advertising and branding guru Howard Roberts who shared his enormous experience with what makes a great brand and how to create one for yourself.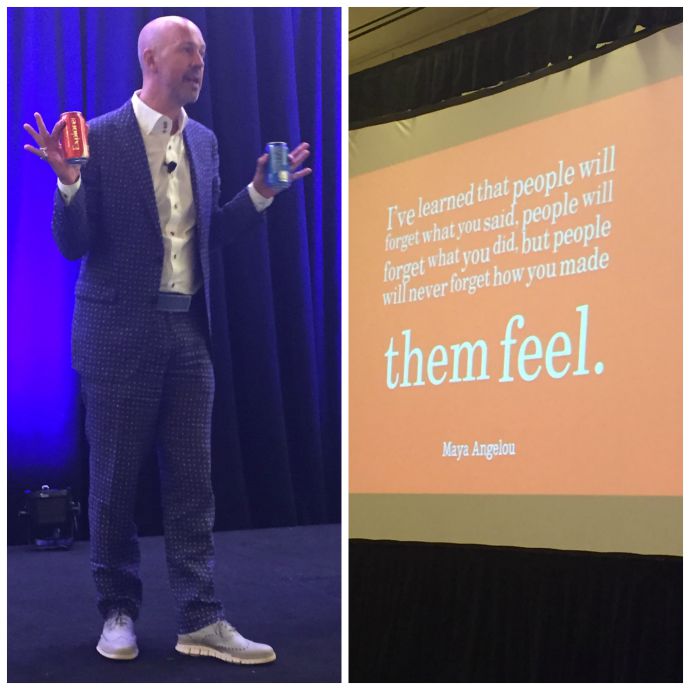 He shared how we need to always make a connection with our audience and to inspire them. Remember, you are a brand, we all are. You can choose to have others decide what your brand is for you or develop your brand the way you want to be perceived.
Pre-conference there was a trip to the National Gallery of Art where one of the few Image Master's, Carla Mathis (author of The Triumph of Individual Style) shared how she was able to use masterpieces from the gallery in DC in her book, illustrating the concepts of proportion, balance points, line, texture, sheen and other elements of design.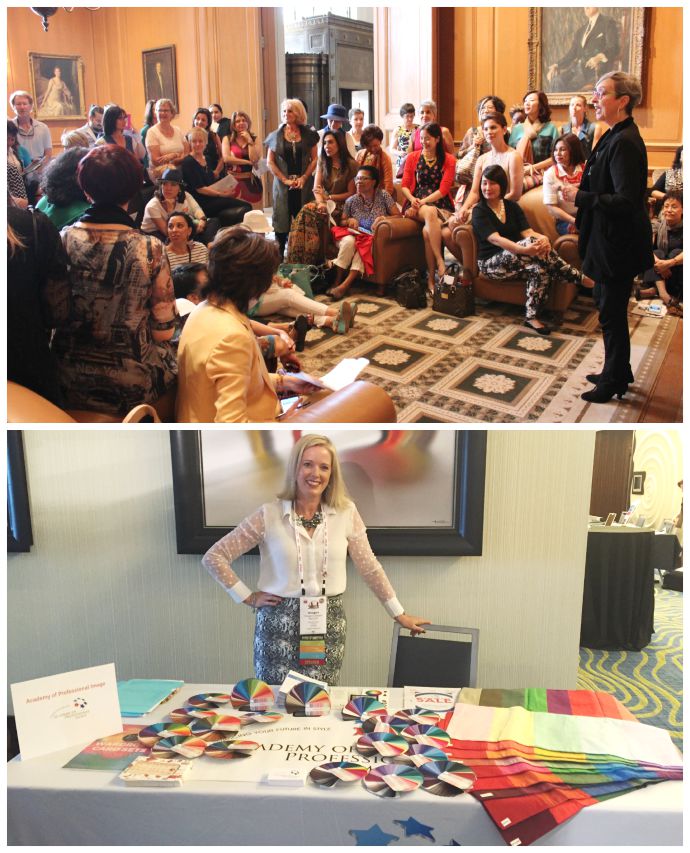 And of course the conference trade display where I got to show off our Academy of Professional Image Absolute Colour System and other online and classroom training programs.
There were many selfies taken as we met up with old friends from across the world and made new friends and colleagues.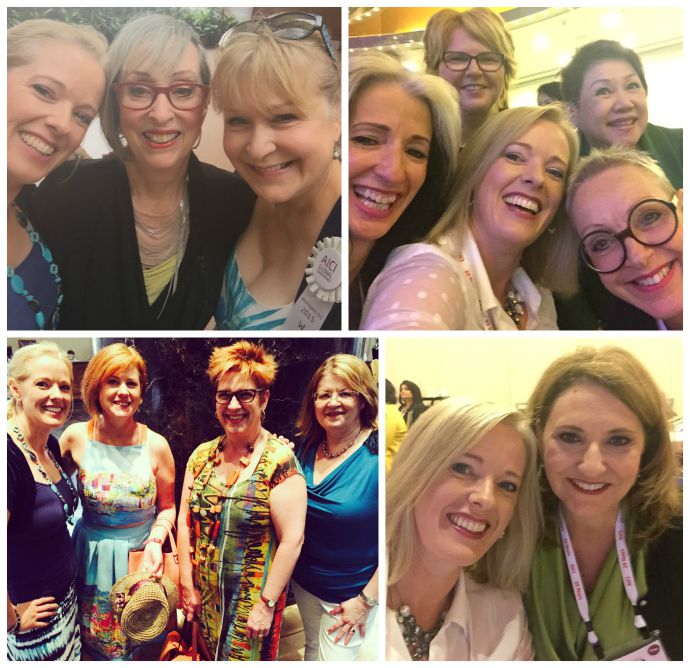 Did we answer the question of how many people can you fit into a selfie with an outstreteched arm?
I got to be the AICI Angel (collecting funds for our educational programs) and reacquaint myself with the gorgeous Deborah Boland from the blog Fabulous After 40.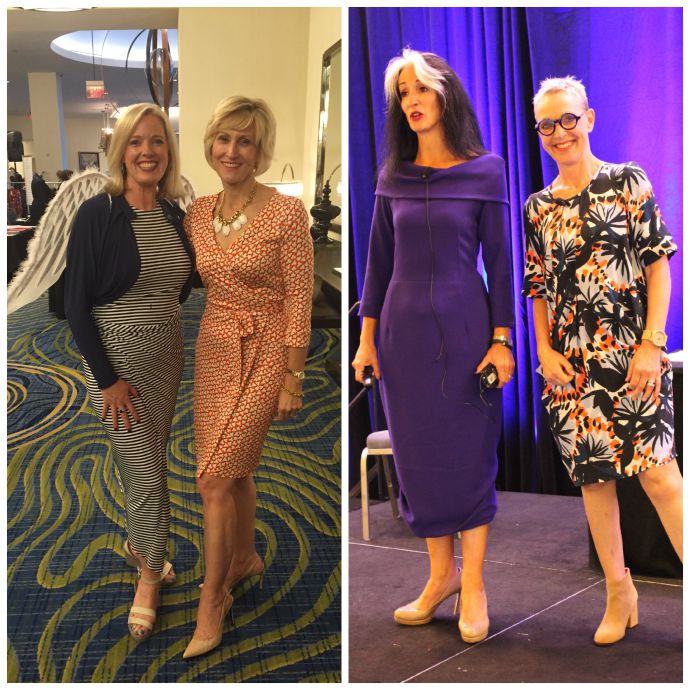 Plus listen to our final address by two amazing English image consultants Sarah Brummit and Sue Donnelly who inspired us to Start with the Why.
I presented two workshops at the conference, one on increasing your image consulting expertise to look at the whole person and help them communicate more successfully.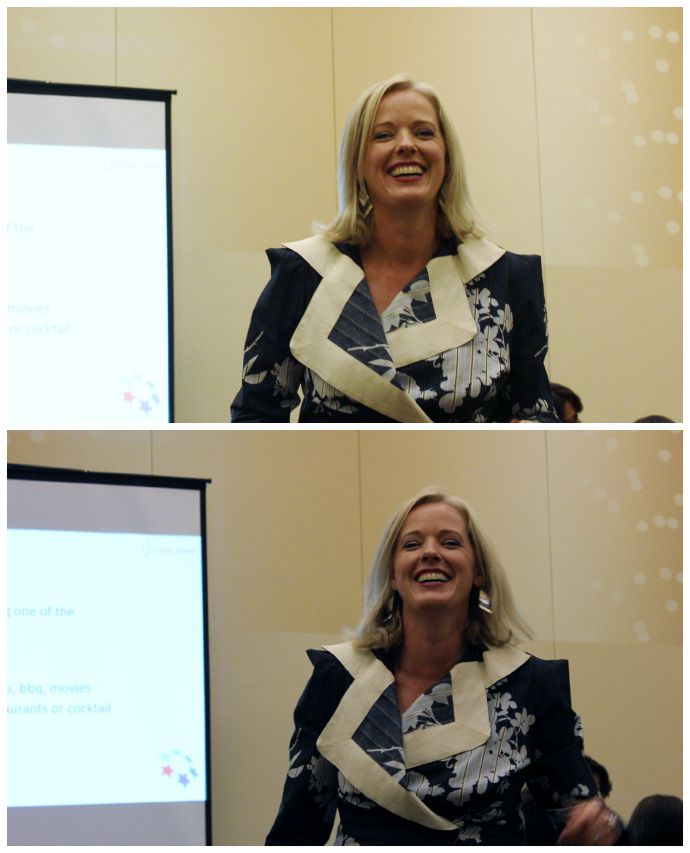 And these photos show that we had some fun!
My second workshop was on how to turn intellectual property into products, where I discovered that I can walk, talk and present, all with my eyes shut!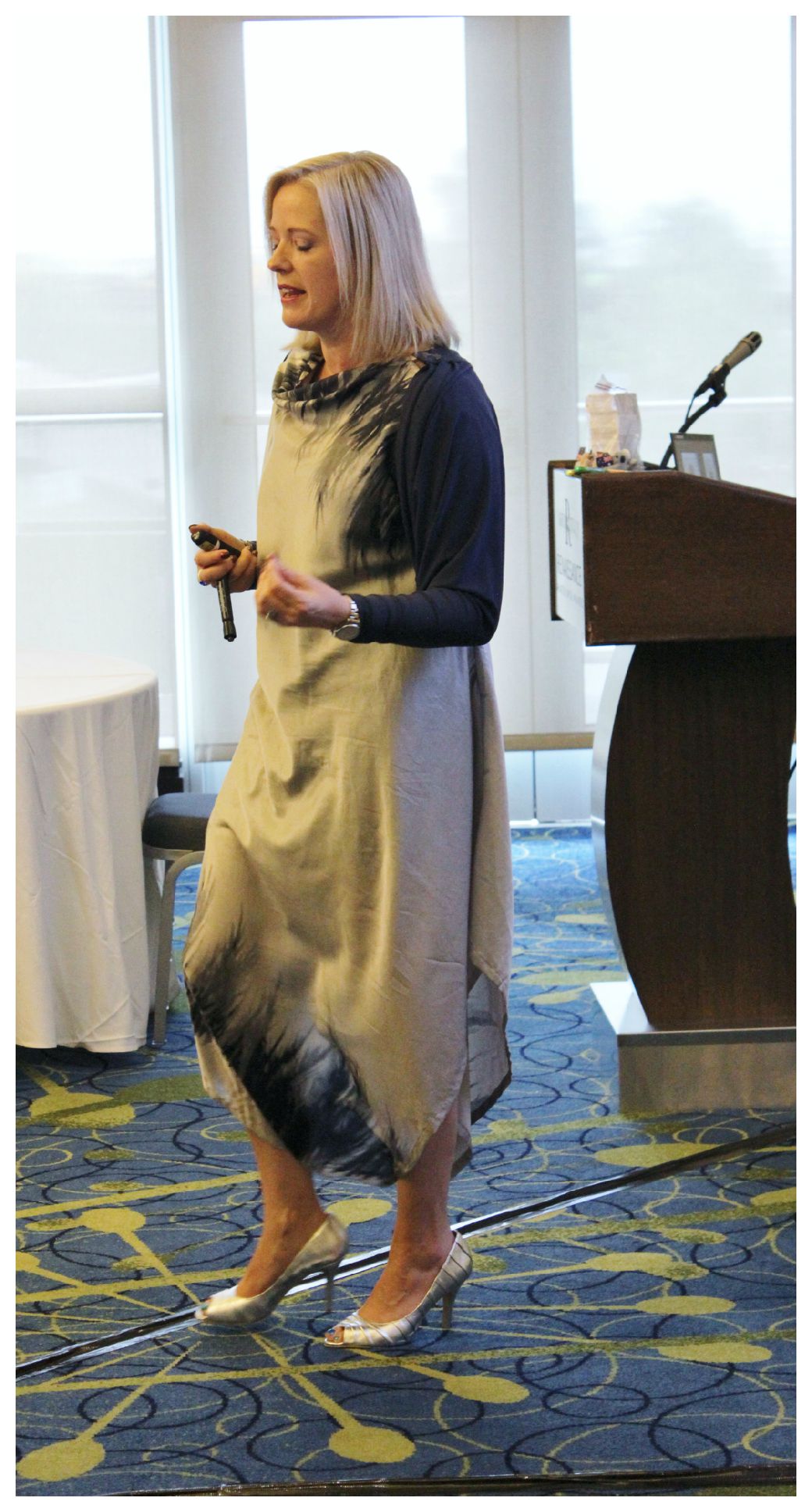 This amazing outfit is from Alfia Galimova who will be shortly be releasing this dress pattern.
I also got to strut my funky stuff on the catwalk at our AICI Fashion Parade where AICI members were outfitted by their local designers – a truly global fashion parade.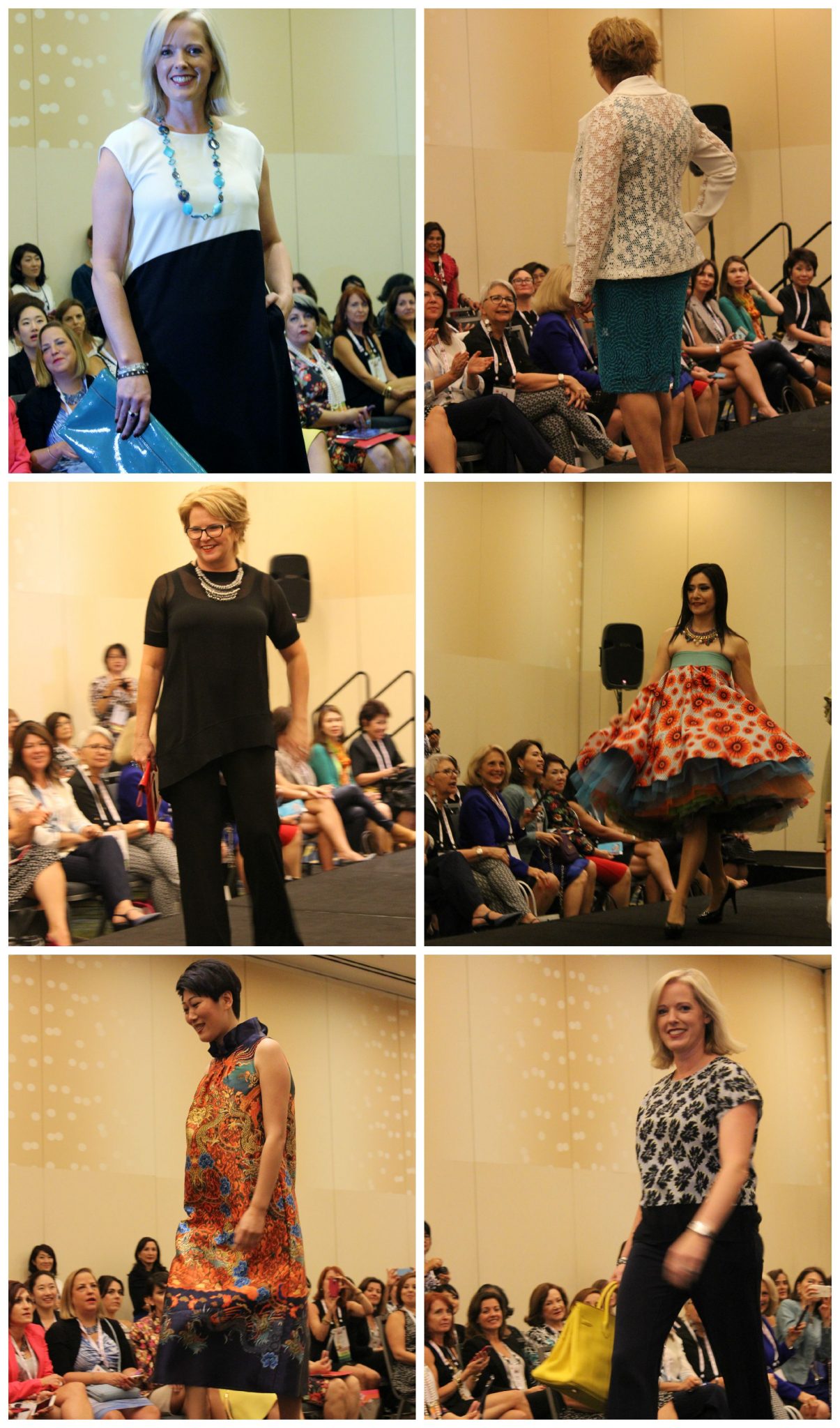 My outfits are from Feathers Spring/Summer 2015 range, green bag from Mimco and yellow Birkin from ReBagg.
And of course one of the highlights is the opportunity to really frock up for the Conference Gala Dinner.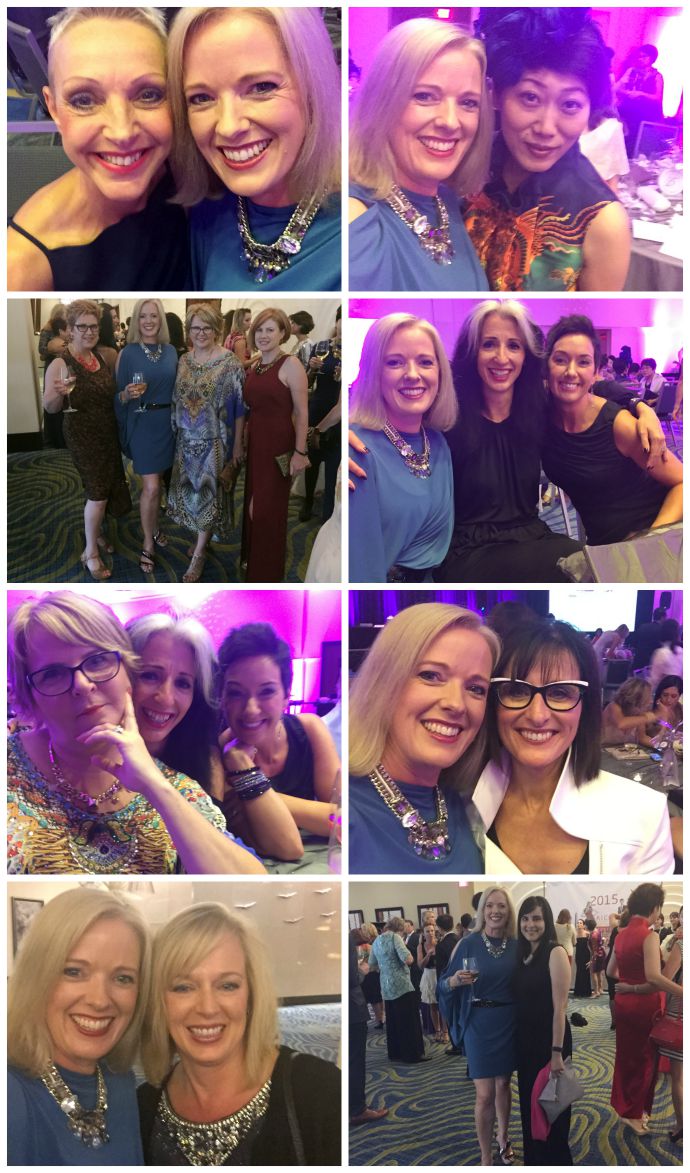 A great chance to have fun, catch up and discover that you have a doppleganger (bottom left) Debbie Helms Howell. People kept telling me that they kept mistaking Debbie for me!