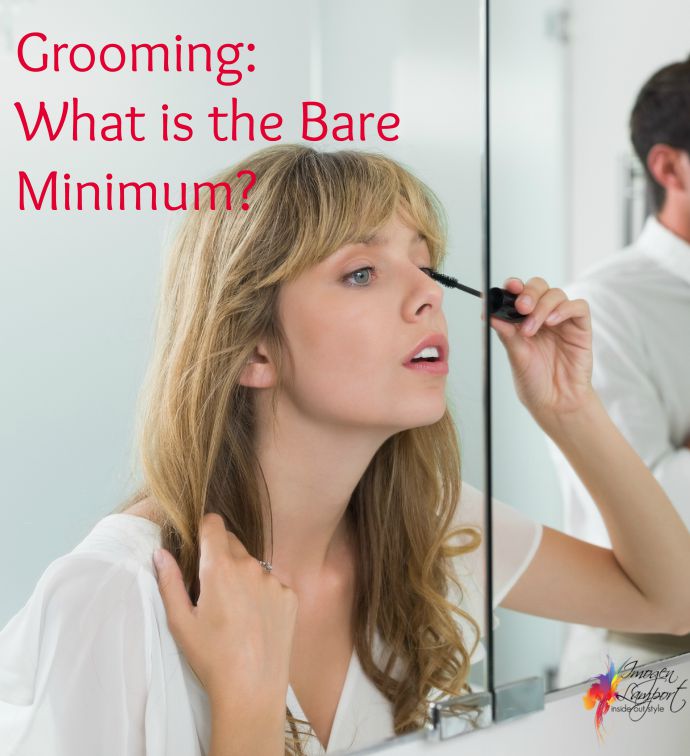 Hi Imogen,
I'm a fan from the US and looking forward to building a spring capsule wardrobe (my first!). Love your style tips and ideas.
Just read your post about dressing your age. Can you write a post about grooming, what is the bare minimum? I kind of hate wearing makeup. Don't mind waxing eyebrows or the occasional pedicure.
Thanks!
Amina
Is there a bare minimum for grooming? Some won't leave the house without a full face of makeup, others barely brush their hair. Personally I feel that a little grooming can go a long way and research shows that we notice that grooming. It's one of the essential elements if you want to be stylish.
Grooming Essentials
You don't need to spend hours, just 5-10 minutes on hair and makeup is really all you need, and everyone can find that little time each day.
Hair – wash, brush and style it- it's your crowning glory and people really notice a good haircut well styled. I notice every time I leave the hairdresser with my freshly professionally blow dried hair that I always get positive comments from strangers that I meet. Spending a little time on your hair is important as it surrounds your face, your communication centre, the place we spend most of our time looking when we talk to you (that's right, I'm not talking to your thighs!). If you need product use it. A few minutes with a blow dryer or hair straightened can do wonders (I know, I have that kind of kinky hair that looks terrible and messy when it air dries).
Eyebrows – if they are unruly have a professional wax/thread/pluck them to a tidy shape, a good brow shape is like having an eyelift. If they are fading away, pencil or powder them in again – they really do provide a frame for your eyes and help pull focus to your face. As we age they shorten and thin, so adding in some fullness to them will take years off your face.
Lips – If you wear no other makeup, some lipstick or lip gloss can help you look more finished. A stronger lip colour will make you look more powerful and confident.
Mascara – Unless you get your eyelashes tinted, or are one of those incredibly lucky ones who have dark, long natural lashes (so jealous of you), then a quick coat of mascara can make you look more polished and it will help your eyes, the windows to your soul, to stand out.
Pedicure – if you are wearing open toed shoes, please a pedicure is a must. Feet are often not the most attractive body parts, so a little polish and a nice pedi goes a long way to freshening up and prettifiying your toes.
These 5 elements would be my minimum for grooming. Of course it's really not hard to do a 5 minute makeup, but if you are just one of those "low maintenance" types who never wears makeup, consider these your essentials.
What are your grooming "musts" each day?
Need ideas on how to get out the door looking stylish in minutes?