Hi Imogen,
I was wondering if you could give me some advice, as my problem is the opposite of one you have dealt with several times regarding "mutton dressed as lamb".
I'm 38 but look a lot younger (people generally guess my age at 25-28). Should I dress my age or the age I look?
To complicate matters, I recently left a corporate career (think designer suits, fancy heels…) to go back to university full-time with students young enough to be my kids. So I'm finding it hard to adjust to a less formal style than I'm used to. I don't want people who know my age to think I'm MDAL, but I don't want to appear frumpy to people who assume I'm in my mid-20s!
When I had my first child at 26, people regularly mistook me for a teenage mum and I resented not looking my age! Now I'm happy to look young, but it certainly makes dressing difficult!
I'm a pretty standard long-wasted X shape (5'8″/173cm and 65kg – a (UK) size 10/12) and live in France where appearance (grooming) and style are very important!
Thanks for any advice you can offer 🙂
Judith
Judith, many would love to have your problem. But I'm getting that you want to be taken seriously. Back in a casual environment it's easy to end up looking way younger if you wear the same kinds of clothes that the 18 year olds are wearing. So how to look more mature, but not old?
The most important factor I can think of when dressing your age is to avoid the obviously 'young' clothing styles. So any sort of tiered frill at the bottom of a dress or skirt will further 'youngify' you. Also, be wary of showing too much skin as it tends to be associated with younger women.
There is no reason why you shouldn't dress for who you are – whatever your age. If it bothers you that people think you're younger then be more mature, but otherwise take it as a compliment! I know I do, I've been taken in the past few months from anywhere from 27 to 38 (though I'm almost 43) and I'm pretty happy about that these days!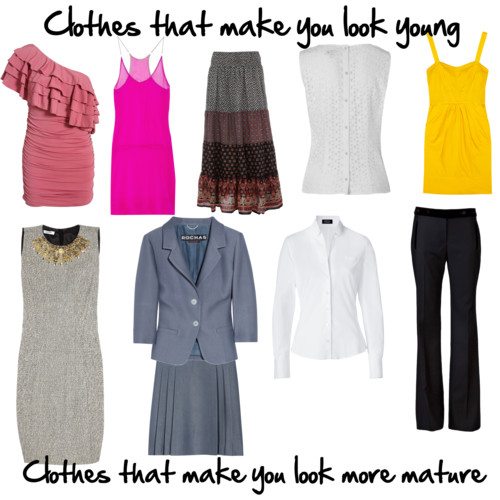 You will find that clothes that are more simple and structured in their construction look more mature. Also think about quality. When we're young we usually have little money as we're at the bottom of the corporate ladder, and our clothes are usually cheaper. As we gain experience we earn more money and we need to improve the quality of our clothing, plus we expect to keep our clothes for longer (rather than just going from one latest fashion to another that we may have done in our late teens and early 20s). So we might opt for slightly more classic styles.
Now, what I've got pictured in the polyvore above may say more 'office' rather than 'university'. How do you translate this simplicity and structure to a casual environment? In many ways, I think "Jennifer Aniston casual".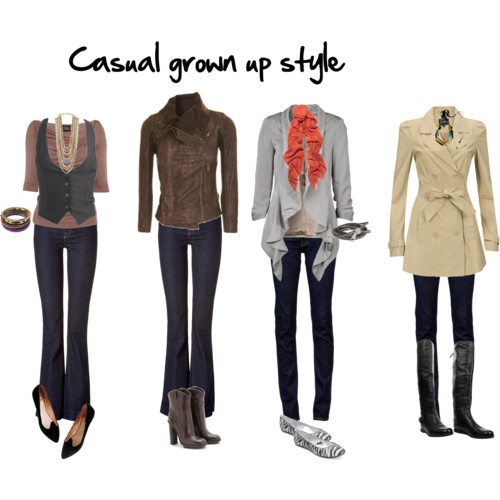 If you dress stylishly nobody will think you're frumpy! There are many clothes styles that are fairly ageless too.
For example, take a pair of dark denim jeans without distressing and team with a soft structured jacket (not a classic suit style jacket, but more like a soft motorcycle style or leather jacket.
Alternatively a great trench over a beautiful quality knit top, or a waistcoat over a knit can add some structure without saying office or too formal.
In the summer months think about a tailored pair of shorts or a skirt or dress instead of jeans.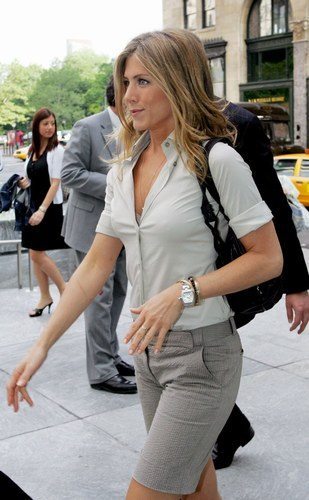 Don't forget, the key to casual without looking frumpy is grooming! Without grooming we can look sloppy and unkempt, no matter what our age.