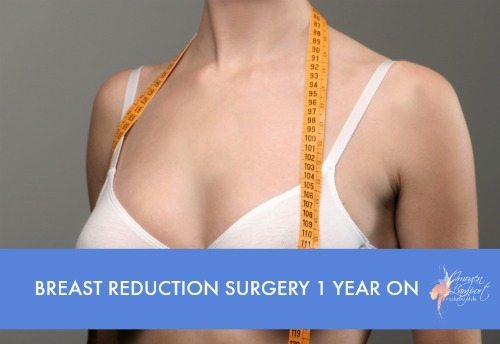 One year ago today I had what I all my "anti-boob job", a breast reduction.  Now a year on I thought I'd share my experiences.
As most of you regular readers are aware, my weight has fluctuated.  In 2008 I was about 10kg larger than I am now, by April 2009 I was a pretty similar size to what I am now, the difference being, is I had much larger breasts, and one of the things I noticed, since I've had my breast reduction is that:
I never looked particularly slim
People comment on my slimness (never ever happened before)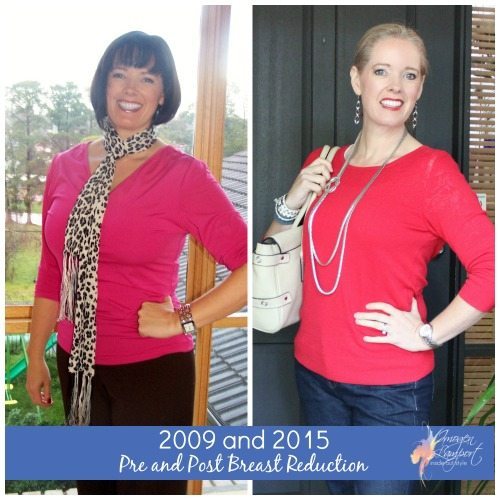 I had to wear much larger tops/jackets than I do now. I've gone from an XL/L to a M/S in sizing terms.  This makes shopping for clothes just so much easier.  It was always a nightmare finding clothes to fit my top half which is why I opted for so many garments with stretch as it made it a little easier.  A whole new world of possible shapes and styles has opened up to me now that I don't have the extra-large breasts, which I love!
Now that my breasts have settled and all the swelling gone, I wear a 32E/10E bra size, down from a 34GG/H pre-operation.  Basically half my breast tissue is now gone, and I don't miss it one bit! I had wanted to be a little smaller, but they can only take so much breast tissue out in one go, and I do look proportionate now, I'm not a tiny/petite person and I have reasonably broad shoulders so they look "normal" on me!
I can do things like run, that I could never do comfortably before, in fact I run 5km 4 times a week and have entered myself into my first 8km fun run on Mother's Day!
As far as pain and the like, I really found that there was much less pain than I expected post-operatively. Sure for 3-4 months I'd get some weird tingling kind of pains in my breast as the nerves did their thing, but a bit of rubbing got rid of that pretty quickly.
I've been asked about nipple sensitivity, as one of the side-effects of the operation is that you can lose nipple sensitivity.  I found the opposite to be true (and this is also a common side-effect that they don't warn you about).  My nipples are now twice as sensitive, but fortunately that's now reducing some as time goes on.
Scarring is minimal.  The anchor scars have healed very well, the bottom disappear into the fold of my breasts on my chest wall, and the line up to my nipple and around them has faded to white, and honestly, my breasts are so covered in stretch marks already from being so large, you barely notice them!  I did tape my scars for 12 weeks post-surgery with paper-tape (micropore tape) and I believe this has made a big difference to my scarring as I had a mole removed on my back and didn't tape that and it has developed a red-raised scar. I learned that scars become larger when they stretch so if you tape, it doesn't give them a chance to stretch whilst they are healing so they become much less noticeable.
The other aspect that it has changed my life, apart from clothes and running is my holiday options.  What? How can having a breast reduction change your holidays Imogen?  This was something I didn't realise until I went on my pre-wedding honeymoon to Thailand in October, where I spent many hours lazing by the pool.  This was the first holiday I'd ever done this since I was a kid, before I grew my boobs.  I was never comfortable in swimwear as not only was it hard to find swimsuits that gave me any support, but also that actually fit my breasts in, without them spilling over the top.  I was always too self-conscious to spend time in  public in swimwear, if I did I was in and out in no time and completely covered up at all times as otherwise I tended to get looks from people who are wondering why I dress like a stripper, not enjoyable.  It meant that all my holidays were 'city destinations' where I kept my clothes on and spent a lot of time sightseeing, which I do enjoy.  But now I have other holiday options too!
Breast Reduction Surgery Journey
Why I went for a breast reduction
Breast Reduction Recovery Guide – Two weeks post-op
3 Months post breast reduction operation