Style – Finding the Frock to Suit Your Shape
Skirt Shapes
There are two classic skirt shapes that you will find in wedding frocks.
Straighter shapes
Waisted shapes will fuller skirts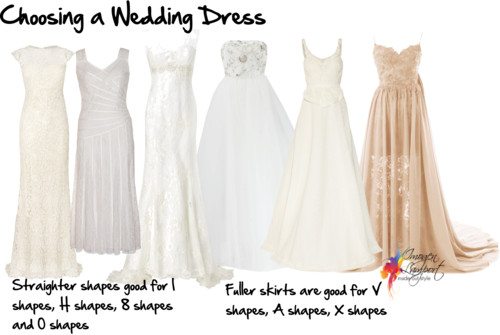 Straighter shapes work best for straighter body shapes and those who don't have a defined waist such as H shape and O shape, and I shape (who can go both ways) and 8 shapes that need a straighter skirt style. Empire waistlines can work for many – though read my tips here.
Fuller skirts are great for those with defined waists and fuller hips/bottoms or have saddlebags such as X shapes and A shapes, and 8 shapes can look for styles with peplums which flatter.
Necklines
Then choosing a neckline on your dress there are commonly:
Strapless
Asymmetrical
Scoop and V neck
Sweetheart
Halterneck
Strapless shapes create a horizontal across your upper body, so are good to balance wider hips/thighs
Asymmetrical shapes are great if you have any asymmetry in your face or body, or if you love them!
Scoop and V necklines should replicate the shape of your jaw. If you have a more pointed V shaped chin/jaw area, then a V neckline will be flattering. If you have an oval or softer jawline, then a scoop neckline is lovely.
Sweetheart – these are better for a more angled jaw than one that is too soft or curved.
Halterneck – there are two types of halterneck, one that is a narrow V, the other that is high and curved. Work the style that relates to your jawline and they are ideal for those with a naturally squarer shoulder line.
Not sure of your body shape? Then why not do my body shape calculator quiz here or get my professional opinion as part of 7 Steps to Style.