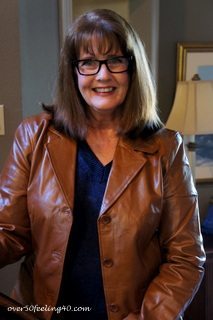 Today I'm introducing you to San Antonio, Texas based high school journalism teacher by day and fashion blogger by night Pam of Over 50 Feeling 40
What is the secret to great style?
I believe it is important to decide what messages you want to communicate with your style. We all say something with our clothing choices every day…no matter what we wear. I want my style to reflect strength, confidence, and substance…so I do not purchase anything without asking the mirror what I am saying with this selection! When I began to focus on the message, my personal style developed quickly.
What is the one thing you would spend a lot of money on?
Right now, I think I would invest in a LBD with a fabulous fit and multi-purpose capability. I am also considering investing in a new look for my hair. Recently, I was introduced to Lafayette 148 NYC and their line is worth every penny…gorgeous. Also, I do invest in my skincare and I love IOMA-Paris, which is sold exclusively at Saks Fifth Avenue. I love it people rarely believe I am in my sixties!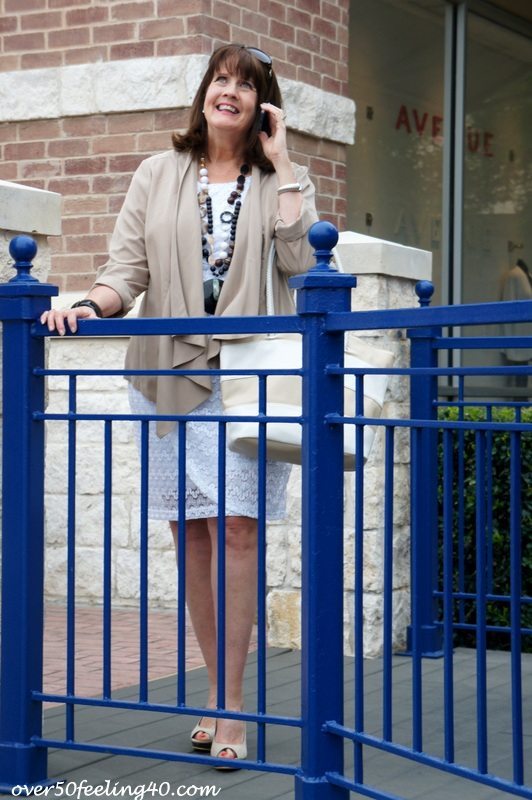 What is the one thing you wouldn't spend a lot of money on?
I am not sure how to answer this question. Since I am now 61, my style is all about less is more. So, I believe adding investment, quality pieces to my wardrobe is important. Yet, I am also a Goodwill blogger and have found some amazing designer selections still wearing tags for next to nothing. I think it is more important to hone in on your own personal style…understand who you are…then shop and the spending levels will take care of themselves. I shop at Goodwill…but I also shop at Neiman's and Saks …it just depends on the style, fit, and the message….and of course, what is in my bank account!! I am able to find the best deals on shoes…and I love shoes!
What are your top tips for looking stylish when travelling?
Plan out your wardrobe by laying it out on the bed and selecting multi-purpose garments. Then you can pack few shoes and less pieces. I do love the Traveler's collection at Chico's and the wrinkle free blouses from Foxcroft Collection.
What's the secret to looking polished?
Take time with the mirror…believe it or not, it is your friend. Make sure you have a full body mirror somewhere in your house so that you can see the total package. I have been overweight for years and thanks to Jenny Craig, I am finally working on losing some weight. But, I learned to dress the body I have in flattering ways. Oversized garments just made me look larger and frumpy. Make sure you have a great fit in your garments in order to achieve the most polished look.
How do you balance new trends with a more timeless look?
I am very careful with trends. They must communicate the messages I desire to send. But, I only participate in the trend colors that are right for me and the trend items which fit within my messages. I make sure I try them on in the dressing room before I discount them. As a curvy lady, I love skinny jeans and leggings. They look good on me and if I had not stepped out of my comfort zone and tried them on, I never would know they could actually flatter my figure. There are more youthful ways to wear accessories which can really modernize a timeless look. I love accessories and all that can be done with them to bump up a look.
What is your current obsession?
Neutrals are my current obsession! I am seen more in black, gray, brown, and white than in a print.
Who inspires you?
There are so many amazing women who inspire me. It is really difficult to nail it down to just one. But, I should mention, my very best friend, Gail, has always inspired me to do more. She was the one who talked me into blogging. Whenever I dream, she will say GO DO IT! She moved to another city a year ago and I miss her so much.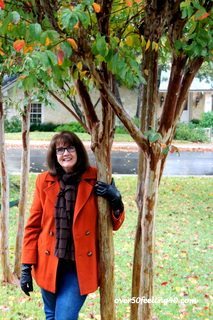 Do you have a signature piece or style?
I am known as the scarf lady…shhhh, I think I have over 100 (remember I will shop thrift!).
What's your secret to making yourself stand out?
CONFIDENCE! I do not leave the house unless I feel confident and can smile at the image in the mirror. Then I hold my head up high and walk confidently into life. Life is too short to walk with your head down. Look up, smile and enjoy all that goes on around you.
The one piece of advice most women need but don't get?
Place yourself at the top of your priority list. YOU MATTER. If you are serving your work and serving your family and letting yourself go, then you will eventually hit a wall somewhere. You can serve others better and do more if you take the time for number one. Stop allowing others to criticize you…you are fabulous ….now go live life with joy and discover the personal ways to look and feel your very best.
What's the best piece of style wisdom you've ever received?
Understanding that style has transformative power! Developing our own style can create confidence and joy which opens a whole new world, even on the 50-100 side of life! Spending time and money on yourself is not plastic, or wasteful or selfish, it is empowering.
What is your favorite current trend?
I love all the booties. I prefer booties to the taller boot and there are so many fun styles!!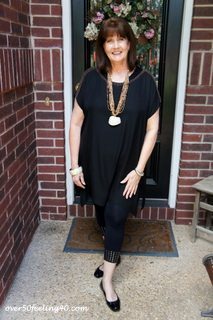 What's your favorite short cut to style?
Controlling the messages! Pick out five adjectives you want to communicate and stick within them. Do not buy anything that does not stay in those five. Pretty soon you will see a personal style begin to develop. On my blog, I refer to this as the Foundational Five.
What's the worst current trend?
Maxi-skirts. I just think they are the fastest way to frumpy and aging style.
What are your favorite websites?
Again, I have many. I would not want to leave out a blogger and upset them. I have a list of my favorite blogs on my front page and I usually look at them every day. Currently, I am a weekly columnist for www.midlifeboulevard.com and I also read the articles of other women writers on this site almost daily.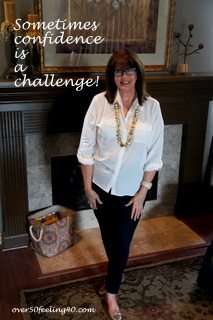 How would you describe your personal style?
I think I am tailored, classic with a kick. My love of accessories keeps the kick alive!!
Who are your style icons?
Ines de la Fressange, Stacy London, Susan of http://unefemme.net/, Diane Keaton and a beautiful friend named Sara. There are really many more, but these are the top five.