Hi Imogen- love the site -such great ideas and at the same time very practical! On that – I was wondering what you would suggest for weekends away? I often go away at weekends and take in some walking or sightseeing so I tend to bring my trainers with me (suitable for walking and not always high fashion!)- anyway would you have any suggestions for how to out together outfits for these sort of weekends but would also be stylish enough that looks good if you popped in to a coffee shop/restaurant or bar – I tend to look like I am heading for the gym when I put these outfits together! Many thanks 🙂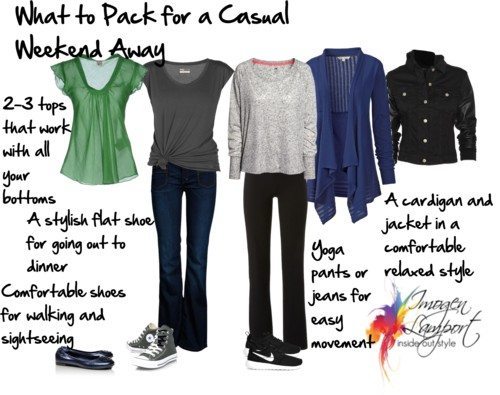 A casual weekend away can involve a few different activities. Sightseeing can mean lots of walking. Ideally you want to be comfortable, but still look stylish (then you won't look like a tourist either and be a target for pickpockets). Ideally (depending on the season) wear jeans and some shoes that are comfortable for walking, but nothing too chunky. You may want to pack some other flat shoes that have a little more style for going out in the evening too.
Look for a jacket that has both comfort and style to pop over your outfit if it's cooler. Knit fabrics are ideal as they allow you to move easily, don't crush too much for packing, and are comfortable to wear. Ensure they are smooth and better quality knits so they look smarter.
Don't forget to consider the level of refinement in choosing what to take. If you want to look smarter, try and have most of your clothing at a level 2 rather than level 3.