In your most recent e-mail, you asked for fashion questions. I do have one question. I have quite a lot of fitted cotton/spandex tees. Would you wear them with knee-length skirts and flats? The skirts are corduroy, twill or cotton prints. The flats are casual ballet flats.
It seems to me that the cotton tees might be too casual for skirts other than denim. I would *love* for them to work, because that would open up a wonderful "smart casual" capsule for me that would be especially useful in warm weather (skirts look so much nicer than shorts).
Absolutely I'd wear cotton/elastane t-shirts with skirts, shorts and pants. No reason not to. The cotton tees that I tend to find look too casual are the ones that are just cotton, and are often ribbed in appearance. They tend to bag and go out of shape quickly and look very sloppy. But t-shirts with a good mix of cotton and elastane that have a fine and smooth appearance are particularly useful for a smarter casual capsule. It's not going to be super smart, but if you also accessorize and the t-shirt is a basic, then no reason not to wear them.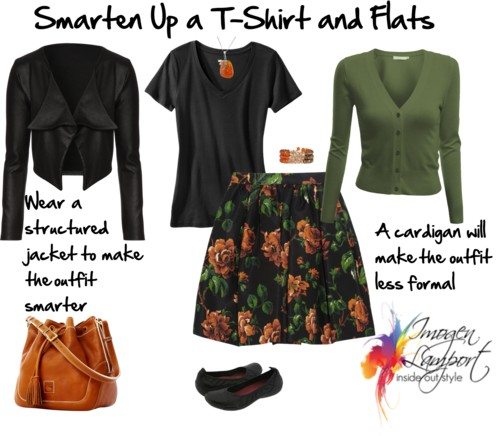 You can take your more casual t-shirt, put it with a skirt, and then add a lovely necklace and bracelets. A structured jacket will make it look more dressy, a cardigan will make it softer and less formal.
In many ways it comes back to the level of refinement. If you add in a good quality t-shirt to your smart casual look, you will only downgrade the formality slightly.