Today's Stylish Thoughts comes from Victoria – British Columbia in Canada by Sheila of the blog Ephemera, and you're in for a treat.
What is the secret to great style?
My mom gave me some advice when I was in high school, back when I was really experimenting with clothes and playing with my look. She said, "Don't ever wear the same thing twice, change it up every day and always keep them guessing." It really made me think about the image I wanted to project, and how changing what I wore could change how people treated me. I had been very shy in school up to that point, and suddenly here was this formerly mousy girl wearing oversized sweaters, Cleopatra eyeliner, heels and neon (it was the 80s). I loved the attention I could get from letting the clothes speak for me.
As I got into my 20s, I realized that sometimes the clothes were overwhelming me; instead of me wearing the clothes, they were wearing me! I began to focus on finding really special items that spoke to me, and my love for quality and luxurious fabrics, vintage clothing, and playing with colour in interesting ways came more to the forefront. I started to collect interesting vintage clothing, and created looks that felt more like me. In my 30s, I struggled so much with just dressing my body (I weighed 50 lbs more than I do now), so I relied heavily on accessories like hats, vintage jewelry and shoes.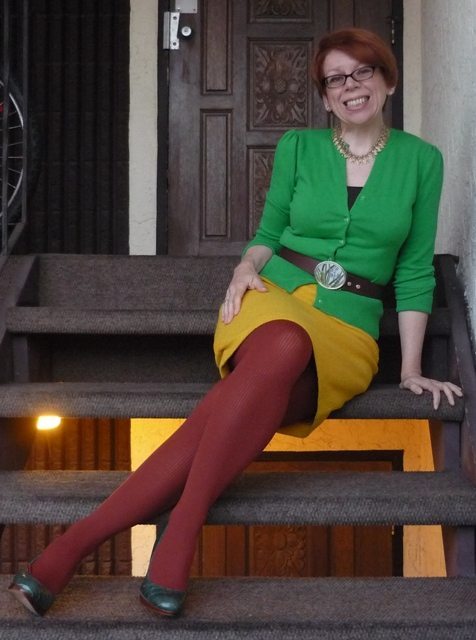 However, I think the biggest blossoming of my style has been in my 40s, since I started Ephemera. I've become much more experimental and have tried to really expand my style – I've been so inspired by other fashion bloggers! I really feel more comfortable in my own skin (and my clothes!) than I have ever been in my life. It feels great.

In short, for me it's always been about trying new things, and honing my style so that it truly reflects who I am, which is an ongoing process throughout one's life. I'm a little bit quirky, a lot artsy, but I always want to look classy.
What is the one thing you would spend a lot of money on?
I always spend the money on good quality shoes. It is also always worth it to spend on good bras. It's nice to find them on sale, but those are two things that you really shouldn't skimp on. Your feet and your boobs will thank you when you're older!
What is the one thing you wouldn't spend a lot of money on?
T-shirts, camisoles and layering pieces like that. I always buy them on deep discount.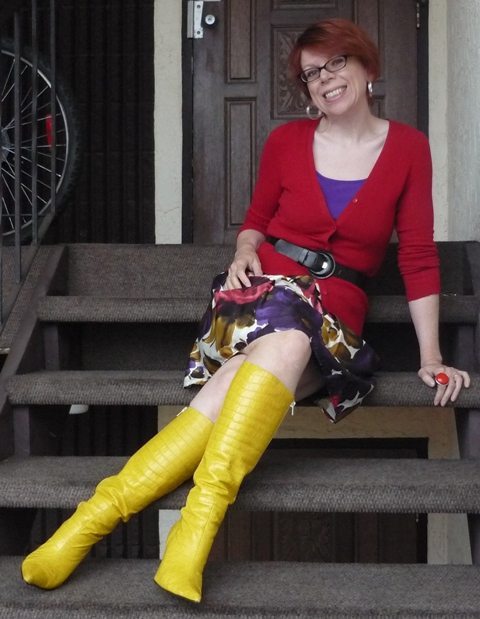 What are your top tips for looking stylish when travelling?
On my last trip (to London and Paris in Spring 2010), it was cold and rainy the entire trip. I was so glad I'd packed a stylish fuzzy beret, a big soft scarf, warm gloves and of course, my classic denim trench coat – so barely anyone saw what I was actually wearing underneath! When I take little jaunts and holidays, I always plan my outfits ahead of time and ensure that my capsule wardrobe includes some fun accessories (coloured tights, jewelry, scarves) so that I can change my look up when I want to. I don't want to look like a tourist!
What's the secret to looking polished?
The devil is in the details! I like every bit of my outfits to be deliberate, from my earrings, to my belt, to my tights – nothing is just blah or boring. I love details that no one sees, like a purple lining in a jacket, or perfect buttons, or fancy texture in a fabric.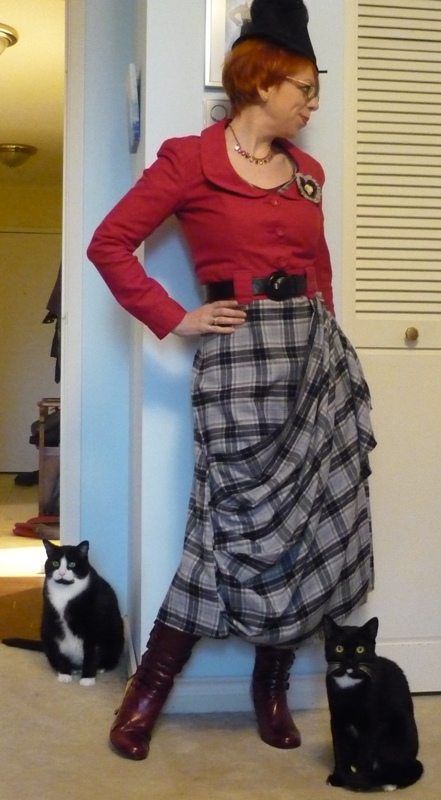 How do you balance new trends with a more timeless look?
I try a few trendy things and just mix them in with what I already have! I'm not afraid to try something new. Sometimes it works and sometimes it doesn't, but at least I try! When something I love is "in" I buy lots of it (like the current rage for leopard) and hang onto it until it's trendy again. I also like classic shapes (like pencil skirts or trumpet skirts) and look for them in the season's colours. I'm less about following the trends, and more about pulling what I like from fashion and incorporating it into my own style.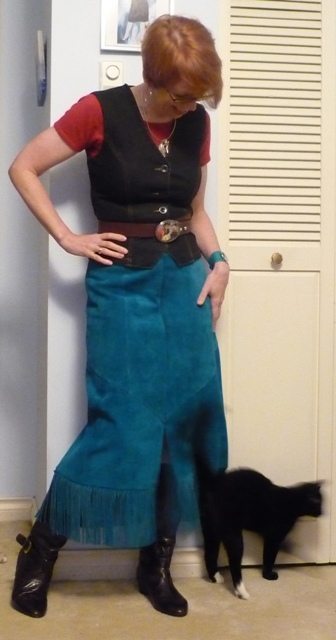 What is your current obsession?
I'm totally in love with vintage suede and leather right now! I can't get enough of it when I'm thrifting or shopping consignment. I have paid as little as $10 for a vintage leather skirt.
Who inspires you?
I'm inspired by anyone who's willing to put themselves out there fashion-wise: fellow bloggers (like Megan of Megan Mae Daily, Kasmira of What I Wore 2Day, Audi of Fashion for Nerds), people on the street. I was very much inspired by my grandmother when I was younger. She dyed her hair a fiery red, wore bright lipstick and wore costume jewelry like it was from Tiffany's. I have a large collection of her vintage 50s and 60s jewelry and I'd like to think she would be proud of me for continuing to wear it and using it to express my own style.
What's not worth the money?
I have been thrifting and shopping second-hand for so long now, that I can't bear to shop in regular stores very often. I keep thinking, "I can find this on consignment so much cheaper!" I've got more leather, cashmere, silk and high-end items than I have ever owned, and most of it was second-hand.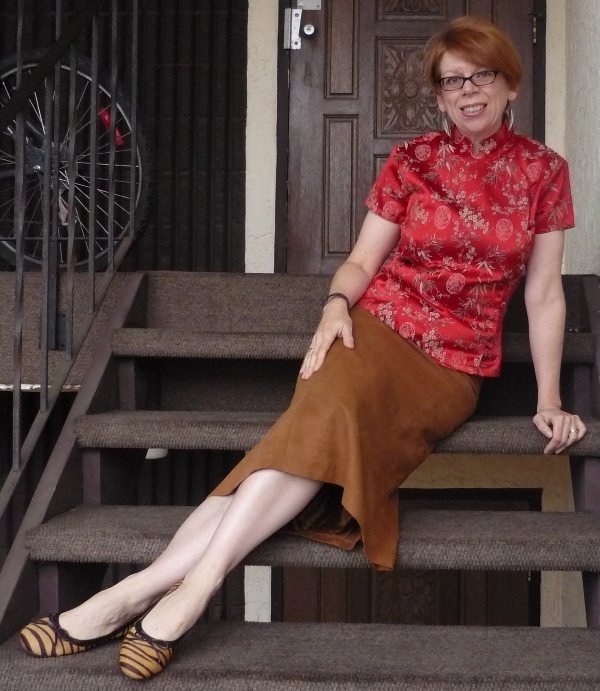 What's your secret to making yourself stand out?
I'm really not afraid of colour! I love brights, mixing them and playing with colours that you might not thing would work together, like orange and teal.
The one piece of advice most women need but don't get?
Style advice: get fitted for a good bra on a regular basis!
Life advice: be kinder to other women. Compliment them, encourage them and praise them. We are far too catty with our sisterhood – we're in this together and we need to support other women!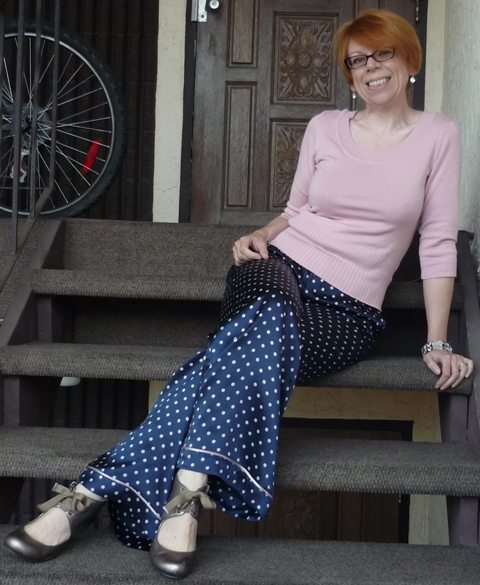 What's the best piece of style wisdom you've ever received?
"Just try it!" You really can't tell how something is going to look until you try it on. Try on anything that even remotely appeals to you – you'll quickly start to figure out what looks good and what doesn't, and it teaches you to be more objective about the clothes and your body.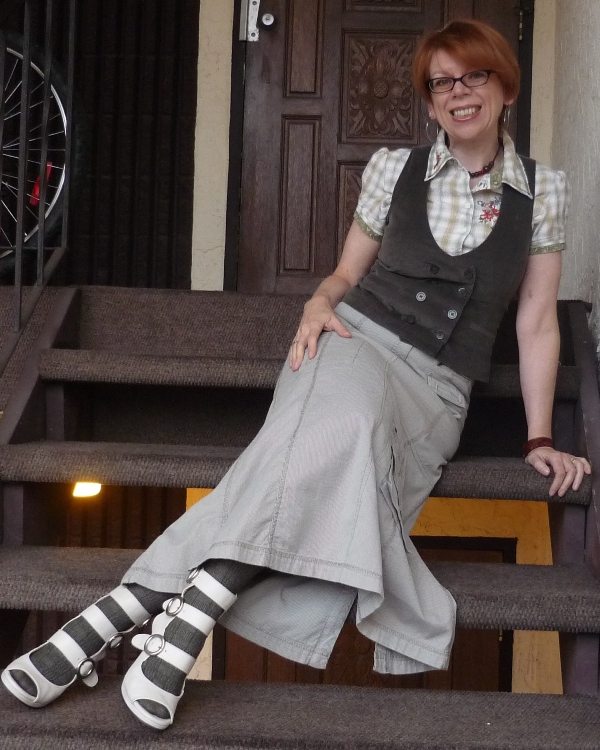 What is your favourite current trend?
Leopard and maxi skirts, but whatever I like I'll wear, regardless of it being trendy or not!
What's your favourite short cut to style?
Wear a dress! When I'm feeling crappy, I put on one of my favourite dresses (it's stretchy, and it's like wearing pyjamas), tights and boots – and I feel better instantly! You can layer tops under dresses, cardigans and jackets over them, wear a fluffy skirt underneath, wear them plain or add a bunch of jewelry and a scarf. Dresses are so easy!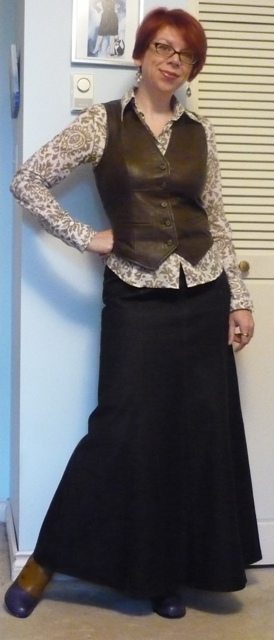 What's the worst current trend?
I've never been a fan of leggings, so you'll never catch me in them! I tend to just ignore trends that don't appeal to me. They're fine on other women, just not for me.
What are your favourite websites
Oh, so many to choose from! These are the ones I read daily, but there are so many terrific fashion sites out there!
Already Pretty
Couture Allure Vintage Fashion
Fashion for Nerds
Megan Mae Daily
My Edit
Not Yet Dead Style
Wendy Brandes
What I Wore 2Day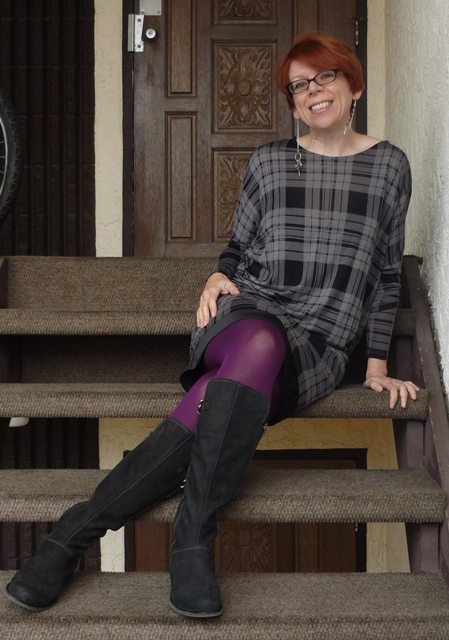 How would you describe your personal style?
Artistic, funky, quirky, fun, classy.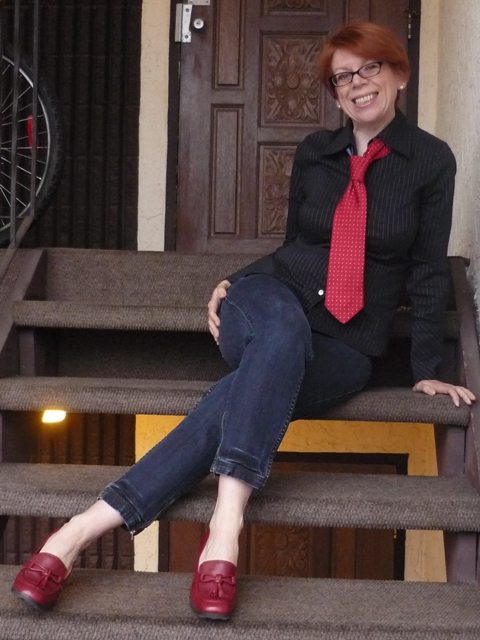 Who are your style icons?
My grandmother, Audrey Hepburn, Katherine Hepburn.