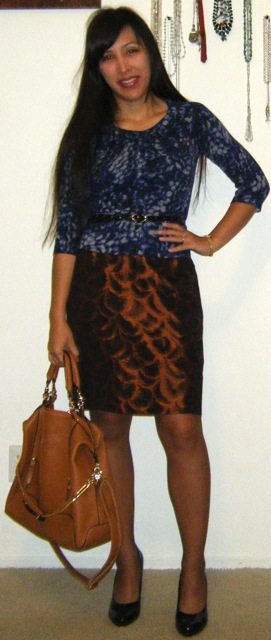 Today I'm excited to introduce to you the Stylish Thoughts of blogging bargain hunter extrordinare Rachel from One-Dollar Wonders.
What is the secret to great style?
To me, great style will highlight your favorite physical characteristics while also expressing your personality. Great style feels and looks natural – people don't notice the clothes before they notice you, because the clothes are almost an extension of you. When you're dressed your best, you feel like the best version of yourself.

What is the one thing you would spend a lot of money on?
You don't name your blog One-Dollar Wonders if you aren't cheap, but I do spend more on True Love items – for me that means boots, bags, and jackets, even if it means reselling something to raise cash. These are the items that carry the bulk of my fashion perspective, so I feel good about paying more to secure things that really, truly make my heart pitter-patter.

What is the one thing you wouldn't spend a lot of money on?
Jersey knits. No matter who makes them, I never feel that they look expensive or remarkable enough to justify the price.
What's your secret to making yourself stand out?
Living in LA, it can be really hard to stand out, but I definitely notice people more when they play by their own fashion rules. The people who stand out to me regard trends with a measure of suspicion, look beyond the latest "it" brands/bags/styles, and create looks that are theirs alone.

The one piece of advice most women need but don't get?
It's not you. It's the clothes. Women's bodies vary extremely widely, but off-the-rack clothing does not – one of my friends and I had to venture as far as the plus-size section… of the little girl's section… in Walmart… before we found a single pair of jeans to her liking. If you don't feel good in an item, then don't beat yourself up – just take it off! Something better is out there for you to find. J
What's your favourite short cut to style?
A great jacket, hands down. If your jacket is flattering in fit, color, and style, you don't have to fuss so much with a top/scarf/hat/et cetera. The jacket will cover your top, brighten your features, and keep you warm all at once.
What's the worst current trend?
Three words: leggings as pants. I'm not talking about the kinds that have been cleverly engineered to look like jeans and feel like yoga gear. I'm talking about the kinds that look one step up from hosiery and expose every contour of your lower half to the world. I don't care how awesome your figure is; I don't want to know what your bootie crack looks like – at least not while standing in line at the market.

What are your favourite websites
I love youlookfab.com for its incomparable forum of supportive women (led by the lovely Angie), lovemaegan.com for Maegan's gorgeously polished – yet unpretentious – outfit posts, cheapjap.com for its hilarious musings by my price-point soul mate, and of course insideoutstyleblog.com for Imogen's ability down stylistic je ne sais quoi into clear, quantifiable elements.