Dear Imogen,
I would be most grateful – on behalf of all the ladies blessed with wide calves – if you could write a post about winter fashion for women who can't wear boots. Personally, my stocky legs and circulation problems prevent me from wearing boots – even if could find a pair that fits, in a colour I like, my flebologist would throw a fit. I don't have ANY autumn/winter dresses or skirts because I don't know what shoes I could wear with them (if any). Is there any solution to this – quite common – problem, or are we all condemned to endless winters in jeans/trousers?
Sincerely,
Maria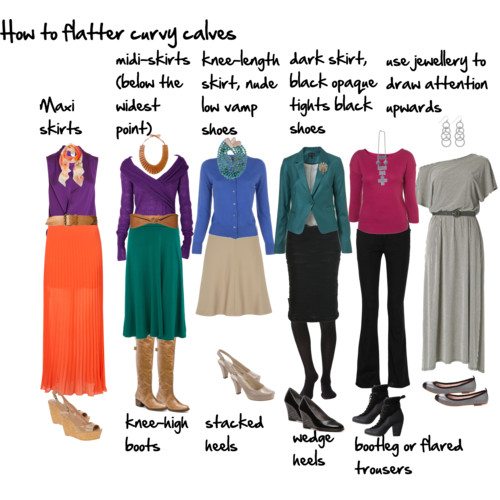 There are a few options, for summer and winter.
The maxi skirt or dress are an obvious and very easy choice as they cover the same way as a pair of trousers.
There are boot suppliers* such as Duoboots who make boots to fit your calf size so you're not squeezing your calves in. You give them your measurements and they are made to fit you.
Look for a skirt that doesn't end at the widest point of your calf, this will make them look larger.
Instead skirts need to end just below the knee, or if you have longer legs you can wear the midi-skirt length which hits lower on the calf. Midi-skirts often need a heel to stop them from looking frumpy.
Make sure there are no hem details that draw your attention down to your calves. Keep your skirts and dresses plain and simple at the hem, but put detail up near your face to draw the eye upwards.
Use scarves, necklaces, earrings and brooches all to create flattering focal points. Also wear lighter and brighter tops and plainer or darker bottoms.
The heels of your shoes can't be too fine, nor should straps be, you need a more sturdy heel such as a cone or stacked heel rather than a stiletto or kitten heel.
In winter, team a knee-length dark coloured skirt with black opaque tights and black shoes to create an unbroken line and not draw attention to your legs.
Flared or bootleg trousers and jeans will be more comfortable than straight or skinny leg.
Avoid gladiator sandals and ankle straps on sandals or shoes.